Panel offers advice for landing academic positions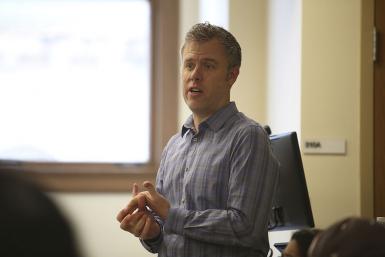 Graduate students pursuing careers in academia should be prepared for a wide range of topics and questions during interviews, according to Media School professors.
Students were joined by Provost Professor Gregory Waller, professor Radhika Parameswaran, and associate professors Rob Potter and Andrew Weaver in a discussion about these interviews as part of the Media School's Friday talk series Jan. 13.
The professors started with an overview of advice for interviews through Skype, an increasingly common practice in hiring.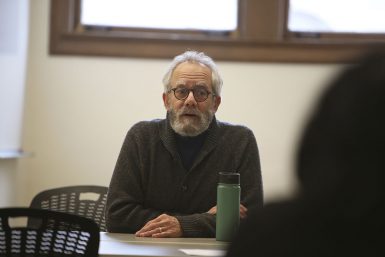 "Skype's become kind of mandatory at most places now, and it's useful for people," Waller said. Skype, he said, allows interviewers to reduce their lists of job candidates while saving the time and money normally required for interviewees to visit campus and interview in person.
"You're sort of trying to gauge how quickly people can think on their feet, how mechanical they seem, how boring they seem," he said. "You're extrapolating what they might be like in a classroom."
The professors emphasized that interviewers can indeed see what the interviewee is doing on the other side of the computer screen; looking at notes off-screen is a red flag. Those interviewing for an academic position should have prepared a quick version of their dissertation to share to keep their explanations easy to follow.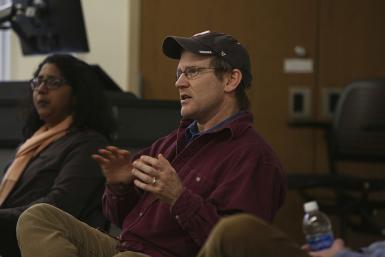 "What fits in two minutes?" Potter asked. "You may be really, really interested in this part of your dissertation, but it won't fit in two minutes, so it's got to go. Tell your partner about it later. Don't tell it in the Skype interview."
While staying aware of timing, interviewees should make sure to moderate their voices and tone as well. Many worry about talking too fast out of nervousness, but this issue can go both ways, Weaver said.
"I was guilty of this in the first interview I ever went on," said Weaver, who also is director of graduate studies at the school. "I was so conscious of [speaking too fast] that I actually went too far in the other direction, and I came off as bored. A little nervous energy is not necessarily a horrible thing."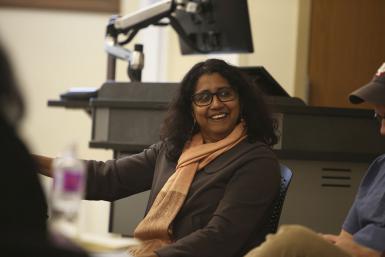 The group discussed the merits and limits of searching for in-depth information or asking individuals about institutions prior to interviewing.
"You can do that, but there's a fine line. You want to ask questions and get information. But if you go down the line of, 'Give me the scoop,' that is not going to go well," said Parameswaran.
Despite the preparation required for interviews, the group said, sometimes job seekers must be ready to expect the unexpected. They shared stories of graduate students who have arrived at job interviews in the midst of events ranging from blizzards to school shootings.
"Weird things happen," Weaver said. "As much as you prepare, as ready as you are, as structured as the questions are that you want to ask, you do have to be able to roll with these things."