Overby wins Black Excellence Award
Doctoral candidate Katrina Overby received the Neal-Marshall Black Culture Center Black Excellence Award for Graduate Students during the Black Congratulatory Ceremony earlier this month.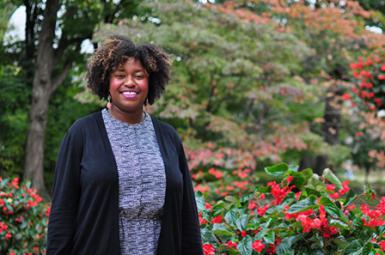 The award honors a black graduating scholar who has excelled in scholarship and service while at IU.
During her IU career, Overby served as  president of the Black Graduate Student Association (among other executive board positions), advisor of the Black Student Union, IU emissary and McNair Scholars mentor, and she tutored Bloomington students at Bethel AME Church. She was a member of the President's Diversity Doctoral Scholars Program, and she implemented and created several programs, including Black Market Friday, a networking event for black-owned businesses and organizations.