Over 72 years, HSJI's platforms have changed, but values remain the same
The High School Journalism Institute has served the same mission for 72 years: to teach students good journalism values and strong reporting skills.
But in many ways, today's HSJI is unrecognizable compared to the pre-college program that opened in 1946, when reporters wrote drafts on typewriters and television news was a brand new medium. Now, students tweet, operate digital cameras and learn how to spot fake news.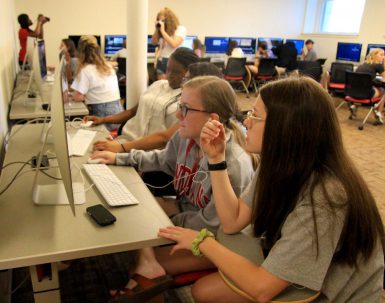 The program, which runs from July 9-19 this year and offers high school students and advisors an array of hands-on journalism workshops, is tweaked every year to reflect the ever-changing landscape of media and journalism. New features this year include a partnership with fact-checking website PolitiFact to provide media literacy workshops and an increased emphasis on multimedia storytelling in all sessions.
"The main thing that's changed is the platform. We're teaching students to be able to report across platforms," said HSJI director Teresa White. "It's important that even the reporting students can shoot a decent photo, or shoot a little video or audio."
Students sign up for a specific area in which they want to bolster their skills, ranging from broader topics such as reporting and editing to more focused disciplines including sports, feature and opinion writing. Also included are classes in documentary storytelling and a team-oriented reporting workshop called "the newsroom."
White said the program also teaches reporters of all interests to use social media in their reporting, both as a means of connecting with audiences and sharing content.
But the program's foundations – teaching students the fundamentals of reporting, storytelling and ethics – have remained the same through the years, White said.
"There are some classes and some skills that just remain the same," she said. "Basic, good reporting is good reporting."
HSJI participants Sophie Mazzei and Belle Gerstmayr spent Monday afternoon shooting b-roll for their documentary storytelling class. Mazzei said their instructor gave them complete freedom to choose any subject they wanted, which they both agreed was refreshing and freeing.
"He basically just told us we have to find a story and tell it through video," Mazzei said.
"It can be about anything on campus," Gerstmayr added.
The two decided to explore the folklore behind the Rose Well House, a campus landmark that symbolizes courtship and rites of passage. Mazzei said the documentary incorporates people's personal interpretations and asks them about their feelings about love.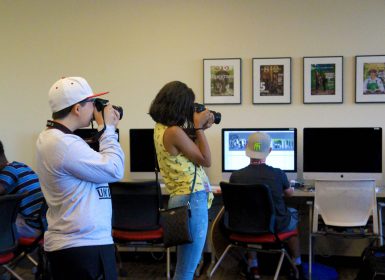 Gerstmayr, a high school sophomore, said HSJI was more or less her first hands-on media experience. Mazzei, a high school senior, said she's participated in high school media before, but HSJI was a new experience because it gave her a hands-on look at IU's programs.
"This is all new to me, but I've learned so much already," Gerstmayr said.
In addition to themed workshops, students also attend general lectures. PolitiFact Executive Director Aaron Sharockman taught students and advisors about media literacy. The goal, he said, was in part to jumpstart a new campaign the organization is developing to encourage students nationwide to question and check the news media they consume.
"Part of what we see our mission as is to teach as many people as possible the skills necessary to do this work themselves, so they can be better consumers of news," he said.
Sharockman offered a session for journalism advisors and other high school teachers, teaching them about the PolitiFact fact-checking process, how to evaluate claims for their factuality and how to quickly identify fake news warning signs.
He walked attendees through an example fact-check, which evaluated a claim by President Donald Trump about the United States' trade deficit with Japan. In the statement, Trump cited a $69 billion-$100 billion annual trade deficit. The statement, Sharockman said, was a hybrid of misguiding and false. While the lower end of Trump's range was factually correct, the upper end was entirely fabricated.
White said it's vital for students to be able to evaluate the validity of the content they're consuming and interacting with online.
"Today we live in a world where, because of digital technology, we don't have the same gatekeepers we used to have," she said.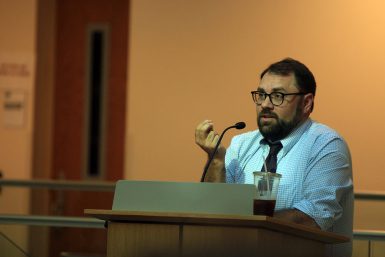 In another lecture, Media School associate professor Gerry Lanosga spoke about the wealth of information available to journalists through public records. Lanosga's lecture taught student reporters how to access information on big topics including crime, public safety and gun violence, and even smaller or potentially more localized information such as restaurant and cafeteria inspections or school bus safety.
White said the lecture was an important lesson on how to find reliable, factual foundations for stories, and that it gave students more ideas on where to find story ideas to begin with.
"Hopefully this will elevate students' reporting so that they're not just going around asking for people's opinions," she said. "But also, they can get some expert sources and back it up with information from public sources."
Another important lecture, which White called one of the "crown jewels" of this year's program, was by Tim Evans and Bob Scheer, two members of the five-member IndyStar team that investigated Larry Nassar and USA Gymnastics. The pair spoke not only about the arduous process of reporting and investigating the story, but also about the ethical considerations involved in dealing with such heavy allegations.
White said one of the overarching themes of this year's program was doubling down on journalistic values of integrity, honesty and truth that HSJI has taught for 72 years, as well as promoting media literacy. The program's T-shirts for the year cheekily reflected that sentiment with jokes about a "balanced news diet" consisting of "verified information," "credible sources" and "no artificial ingredients."
"We're trying to be anti-fake news this week," she said. "Real journalists don't make fake news."