NYT's Haberman: Trust your gut and verify, even if it means losing a scoop
New York Times reporter Maggie Haberman had known Donald Trump for years when an aid called her in 2015 to tell her Trump would declare his run for presidency that June, and he wanted her to break the story.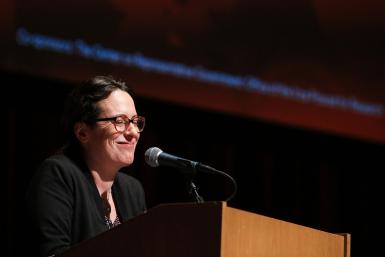 She refused, saying she didn't believe he would do it.
She was wrong at that moment, but throughout her time covering Trump and other politicians, the White House correspondent has learned the value of trusting your gut.
If you believe something is happening, even if it might not seem like it at first, hold onto that feeling, Haberman said. It could eventually be right.
Haberman spoke Monday to an audience of 450 at the Buskirk-Chumley Theater as part of The Media School's Speaker Series. The talk was co-sponsored by the Center on Representative Government and the Office of the Vice Provost for Research.
The work of journalists is vital, Haberman said, especially now. Journalists are not elected officials, she added. They don't hold hearings.
"But we do have the power to examine the facts and write the truth," she said.
Haberman was part of a Times team that won the Pulitzer Prize for National Reporting, which it shared with a team from The Washington Post, for coverage of the Russian interference in the 2016 presidential election and its connections to the Trump campaign. She also won the White House Correspondents' Association's 2018 Aldo Beckman Award and the Newswomen's Club of New York's 2018 Front Page Award for Journalist of the Year.
"It's a million miles away from where I started in college," Haberman said.
Haberman's father was a journalist, but she never wanted to be a reporter. She did, however, want to be a writer. She got a degree in fiction writing but struggled to find a job out of college.
She ended up starting as a "copy kid" at the New York Post and worked as a general assignments reporter once a week. Eventually, she began covering city hall in New York City before becoming a political reporter at Politico and joining The New York Times in 2015.
The more Haberman has covered Trump, the more she's watched as Trump continued to take to Twitter. She's also noticed, however, that not everything that his account tweets is written by him. Sometimes, it's a calculated, well-thought out tweet sent out by a staff member.
"The Twitter persona is sometimes just that: a persona," she said.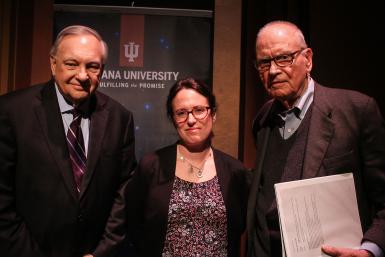 After the lecture, former U.S. Rep. Lee Hamilton, a distinguished scholar in IU's Hamilton Lugar School of Global and International Studies, presented Haberman with the Lee H. Hamilton Public Service Fellowship.
Hamilton thanked Haberman for her exceptional dedication to journalism.
"I had a call this morning from a journalist who said, 'Why would you have Maggie come to Bloomington?'" Hamilton said. "We just saw why, didn't we?"
One of the biggest lessons Haberman's learned is that reporters in this era need to be prepared to share their processes.
It's easy for others to use a journalist's process, such as calling for comment or using specific sources, against them. People try to put reporters into a box, she added. They try to make them the story, but it's a journalist's job not to take the bait.
"It's important to tune out all the news we hear, as reporters," Haberman said.
Reporters must continue, despite all of this, to try to get the most accurate truth, Haberman said. This could mean showing more of the process of reporting than normal or taking more time when it comes to breaking news.
"It is vital to determine what is real and what is not, even if it means losing the scoop or the story," she said.
The spring Speaker Series concludes April 9 with a screening and lecture by photographer and documentary filmmaker James Balog.