NPR's Totenberg shares insight on Supreme Court, new president
By Greg Ruhland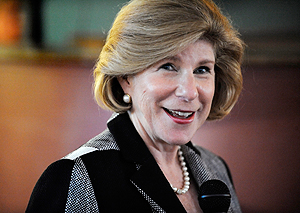 In the 30-plus years Nina Totenberg has immersed herself in the "great passion and high drama" of the Supreme Court for National Public Radio, the award-winning broadcaster has always kept herself a step removed from it.
"I got into this business because I wanted to be a witness to history and explain complicated things to people," Totenberg told the public in a free lecture Tuesday. "If I wanted to be involved in the cause, I would be doing something different."
Her talk is the second in the fall School of Journalism Speaker Series that brought an audience of largely budding lawyers and journalists to the IU Auditorium. They watched, listened and sent questions to the veteran legal affairs correspondent, who stressed that the Supreme Court's future rests significantly on a presidential election less than two months away.
"This election could determine whether the court swings sharply to the right or not," Totenberg explained, adding that it most certainly won't swing left due to the age of key liberal justices. And as many as four justices could retire in the next four years.
"If a [sic] president McCain, who has pledged to nominate conservatives, were to replace one or more liberals," Totenberg said, "he could solidify a fairly far right conservative majority for decades to come."
But if candidate Barack Obama were to fill these justice vacancies, Totenberg said nagging divisions in a right-tilted Supreme Court may continue. She said the court is more fractured now than at any other time in her memory. Its decisions on cases ranging from abortion to national security have passed by narrow margins, with consensus harder to reach than ever. The court is "light years" more conservative, she said, than it was in the Nixon or Reagan eras.
After her 30-minute speech, Totenberg answered written questions submitted before the talk about the quality of election coverage and the state of the media.
One asked about Totenberg's personal reactions to cases she's heard. Ever a reporter, Totenberg doesn't share with listeners her own take on rulings, but she does have private opinions.
"In reporting, you can't be totally unbiased, but you can be fair," she said. "But even when I privately think a decision is wrong, sometimes five or 10 or 15 years later, I look back on how those decisions worked and I realize I was wrong."
Audience members took her analysis to heart.
"We can look at democracy and think there's black and white, but it's all gray," said Bloomington Realtor Scott Owens after the talk. "Democracy is inefficient and it's messy. She made that clear. But if you listen to all the arguments carefully, there are strong points on both sides of the aisle."
Journalism student Krysten Beck was also in attendance. "She had so much information," Beck said of Totenberg's experience.
Visiting student Dennis Ellis came away with a better grip on the Supreme Court's inner workings in the context of voting season.
"She touched on the ramifications of election and [the court's] aging members," Ellis said of Totenberg's predictions of what could happen in either of the candidate's administrations.
"If President Obama were in office," said Totenberg, "I think it's fair to say at least the basic right to abortion would stand. What about with President McCain? I think it's equally fair to say that abortion would be in jeopardy."
Once named Broadcaster of the Year, Totenberg has been with National Public Radio since 1975 and appears regularly on its three news magazines "All Things Considered," "Morning Edition" and "Weekend Edition."
In 1998 she became the first radio journalist to receive the Sol Taishoff Award for Excellence in Broadcasting from the National Press Foundation, and she also received the American Judicature Society's first-ever award honoring a career body of work in the field of journalism and the law.
Leonard Downie, formerly executive editor of the Washington Post, speaks Oct. 28 at the Buskirk-Chumley Theater in the final installment of the fall School of Journalism Speakers Series.