NPR correspondent Nelson reports on war, conflict, immigration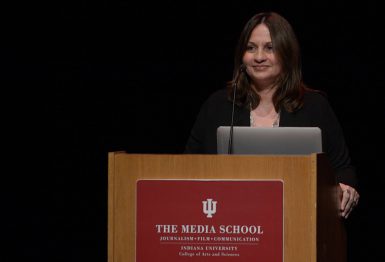 "It doesn't bring my brother back."
This was Matthieu Mauduit's reaction when NPR's Soraya Sarhaddi Nelson asked if the French airstrikes on Raqqa, Syria, helped placate the pain caused by his brother's murder in the Paris terrorist attacks in November. He believes the answer to the conflict involves more than military and missiles, according to Nelson.
"Even before the attacks, he felt what was missing was the dialogue," said Nelson of Mauduit. "He felt what was missing was empathy — people talking to each other. And he's not alone. People I talk to really feel like the answer to this isn't fighting."
The long-time international correspondent shared stories and analysis of world events she's covered, from post-9/11 to last month's attacks in Paris, to a packed house at the Buskirk-Chumley Theater Thursday evening as a guest of the school's Speaker Series.
Using photo slides, some of which she shot herself, Nelson spoke about Europe's failure to integrate immigrants from the Middle East, congruity between Europe's recent reaction to ISIS and actions taken by the U.S. after the 9/11 attacks, and her own experiences as the daughter of immigrants who often faced discrimination herself.
Nelson used her first experiences in Afghanistan to lead her talk. As a reporter for the L.A. Times, she was sent to Afghanistan to report after 9/11, then returned to the country as a correspondent for NPR in 2006. She was living and working in Cairo, Egypt, during the Arab Spring uprising.
Nelson said as a reporter on the ground, she saw many inconsistencies in how policies were instituted and carried out. In Afghanistan, she watched Americans attempt to occupy some of the most hostile provinces — and fail. She watched billions of dollars poured into building new schools, roads and infrastructure in these hostile areas, while it took nearly seven years to pave one mile of road in one of the most peaceful provinces.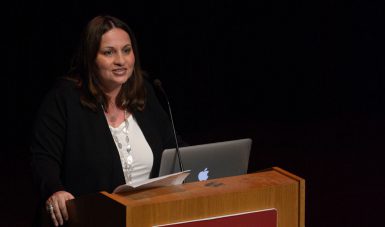 Most notable for the people of Afghanistan was America's futile attempt to fix a dam with only one working turbine, which had been in disrepair for decades, she said.
"Growing Taliban-led insurgency made this a symbol of the problems of American redevelopment in Afghanistan," said Nelson of the dam repair project. "Today, it still isn't working, despite tens of millions of dollars recorded in repairs."
As targets of terrorist attacks shift from the U.S. to Europe, and the threat of ISIS replaces that of Al Qaeda, Nelson said not much has changed in the reactions of Western nations. Nelson said many of her interviewees believe European countries do not have their priorities straight in their fight against ISIS, much like America in Afghanistan.
Nelson cited Europe's inability to process the mass influx of immigrants and said many European citizens tell her that airstrikes on Syria will not solve this issue. The issue is rooted in European countries' lack of effort when it comes to integrating Middle Eastern immigrants into society.
Immigrants and Europeans of Middle Eastern descent have been discriminated against in these countries, making it hard for them to get jobs, become citizens or feel safe in the country they call their home. Nelson said ISIS preys on this vulnerability to recruit European youth to come to Syria and eventually return to Europe posing as refugees.
"They're not really necessarily religious originally, but they're attracted to ISIS because of the promise of power and rewards for them on earth and in heaven," said Nelson of European ISIS recruits. "ISIS gives them a sense of pride and makes them feel like the chosen ones."
While years spent reporting on unrest in the Middle East have given Nelson a vast knowledge of political international affairs and military strategy, her passion for war correspondence lies in the people affected by the fighting.
"Just like Ernie Pyle, I want to write about turmoil from the individual standpoint," she said.
This was evident in the stories Nelson chose to tell from her time as an international correspondent in a war-torn world. When she spoke of Afghanistan, where she opened the Kabul bureau for NPR in 2006, she was not only concerned with methods used to expel Al Qaeda, but also wanted to know what this would mean for the future of Afghan women. The first question she asked Afghan warlord Ismail Khan was if women would be able to vote in the democratic elections he had promised.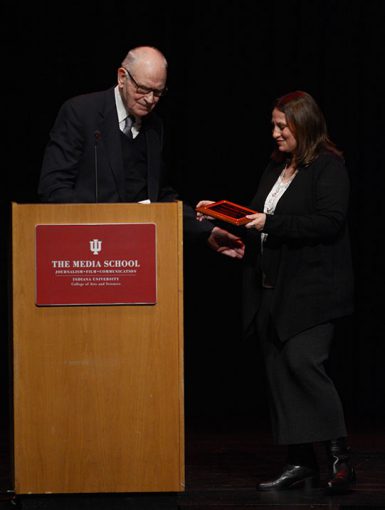 "Something I was always amazed by was that even in most dangerous provinces where the Taliban were out in force on election day to try to prevent the ballot from going forward, the women would stand in line to vote," said Nelson. "They'd wait even though the rockets were flying and the chance of being picked off by a drive-by shooting were really high."
Now based in Berlin, Nelson continues to cover Afghans as they immigrate to Europe. From her recent reporting in Germany, Nelson shared stories of an Afghan family that has been waiting for six years for paperwork that will allow them to work in Germany to be processed. The family now fears they will be sent back to Afghanistan, as the German Ministry of the Interior has declared it a safe country.
Nelson recounted her own upbringing as the start of her interest in covering conflict and, later, migration. She grew up in Milwaukee as the daughter of a German mother and Iranian father, and the family moved to Iran for several years, where her world-view and proficiency with languages expanded.
The family returned to the U.S. as events in Iran were leading to the shah's ouster. Nelson said they were greeted by neighbors egging her family's house and classmates writing "go home terrorist" on chalk boards. Funeral home after funeral home refused provide accommodations for her father's funeral because he was Muslim.
"I found it hard to fit in when I got back to the States, especially after the U.S. Embassy takeover and the hostage crisis in Tehran," sad Nelson. "It made any American of Iranian descent an extremist."
During her lecture, former U.S. Rep. Lee Hamilton presented Nelson with the 2015-16 Lee H. Hamilton Fellowship for Public Service, given by IU's Center on Representative Government. Her visit was co-sponsored by the Institute for Advanced Study.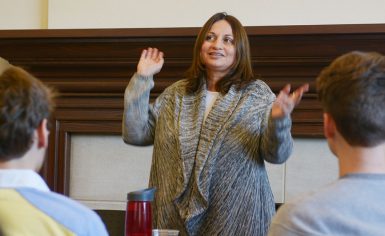 Nelson shared her experiences as the daughter of immigrants and an international correspondent with several groups on campus. Earlier Thursday, she met with IU President Michael McRobbie, had lunch with students at the Hutton Honors College and visited an audio storytelling class. Today, she is set meet with political science students.
The school's Speaker Series brings top media professionals to campus for free public lectures. The schedule for the spring series will be announced in January.
More: