New RTV soundstage gives filmmakers control over process, product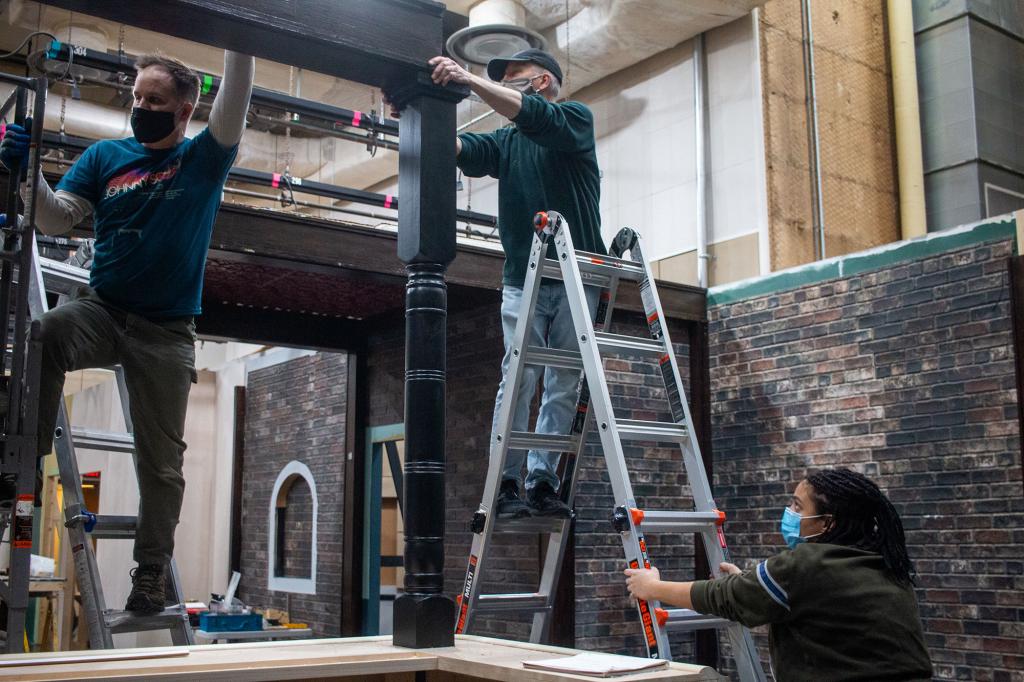 Radio-Television's Studio 5 is barely recognizable.
On a Sunday in early February, the once wide-open space is filled with movable walls and construction materials. Faculty and students are spread about, masked and working. A group of students around the bar set stamps white paint on red brick walls to give them a worn look. Others place adhesive tiles on the floor at the entrance to the bar to simulate an outdoor sidewalk. Senior lecturer Susanne Schwibs and a student volunteer are perched on ladders, applying wallpaper to the apartment half of the set.
Doors are installed, light fixtures drilled into walls, plans honed for the next day of construction. There are still floor tiles to lay, makeshift stained glass windows to insert and a sticker with the bar's name — Ernie's — to place on a prominent window. The room is lively — in a rare occurrence for the last year, a group of people have come together under one roof to make something.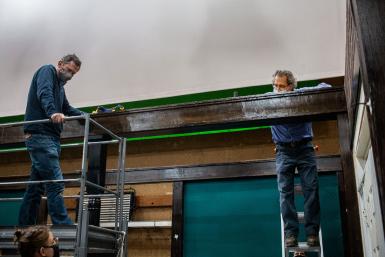 "I always tell people: If you feel lousy, make something," says senior lecturer Steve Krahnke, the soundstage's designer and builder.
From Dec. 11 through Feb. 8, the team of faculty, students and alumni converted the 3,100-square-foot Studio 5 into a soundstage. The space allows students to film projects with complete control over mise-en-scène.
"It's all about control — control over every element in the filmmaking process," said senior lecturer Craig Erpelding. "That leads to a more thoughtful process."
In addition to letting filmmakers work in a setting where every element of the production is constructed from the ground up, the soundstage will also give students experience with lighting, sound recording and set dressing in a more controlled environment.
Plans for a soundstage at The Media School had been discussed for a while, Krahnke said, but with this year's introduction of the B.F.A. in cinematic arts, production faculty started to consider how best to support the program.
For the 2019-20 school year, the school constructed a small set in the back half of a studio with spare materials to simulate soundstage production. But for the new soundstage, Krahnke and his team converted Radio-TV's Studio 5 into a large and versatile space that can support classwork and other student projects. Jay Kincaid, The Media School's director of facilities and technology, said the in-house work likely saved $60,000-$80,000.
"The faculty got together and decided that having a real soundstage set — what we call a four-wall set — seemed important," Krahnke said. "Studio 5 seemed like the only place where we could do it."
The new soundstage includes a pair of adjacent sets: a 1940s-styled bar on one side and an apartment on the other. Both are effectively rendered — wallpapered, lined with fake bricks, adorned with faux stained glass windows — but adaptable; Krahnke says student filmmakers will have plenty of freedom to tailor the sets to their vision. The bar can become a coffee shop, a pizza place or a 24-hour diner, for example. The apartment can become an office, a cabin in the woods and anything else students need it to be. A mechanism behind the windows of the pair of sets will allow students to hang large-scale photos as backdrops, so the bar or apartment can be transported to any locale.
Each set is roughly the same size, the apartment slightly smaller than the bar — approximately 500 square feet and 900 square feet, respectively. Both are highly adaptable. A number of walls are built on wheels to make them mobile, so student directors can move them around for better camera placements. Walls from the apartment set can be repositioned to give the bar set an interior exit: to a bathroom, a smoking area, a kitchen or anything else the project requires.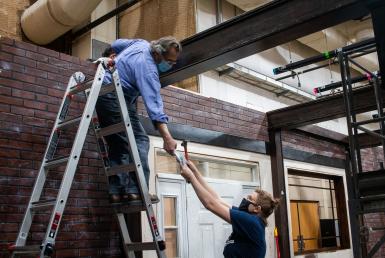 The sets' windows, too, are mobile. If needed, students can remove them to get the right compositions. The window behind the bar can pop out to give the camera an over-the-shoulder view of the bartender.
Musical Arts Center technical director Robert Brown built the bar top and back bar furniture. As is, the bar features an antique door obtained on Facebook Marketplace, European-style cafe chairs Krahnke bought for a 2011 production of "Cabaret" at Bloomington High School North, wooden tables and an array of makeshift stained glass windows Krahnke fashioned from craft paints and plastic panels.
But students also have the capacity to redecorate the sets, Erpelding said. They can repaint walls if needed or replace the furniture to re-envision the set as anything they need it to be.
"I think that students, when they shoot in an environment they're comfortable with within their own apartment or whatever it is, they don't think about the entirety of why — why every set piece, why the color of the walls," he said. "This gives them a blank slate."
In the field, student filmmakers are subject to factors outside of their control — noises interrupt sound recording, passersby walk through shots, the sun's movement changes lighting between takes, weather gets in the way and more. Media School junior Emma Bloomfield recalls one location shoot where a team member was stung by a hornet and needed medical attention, and a tree fell a few feet away from the crew. On location, artists have little control.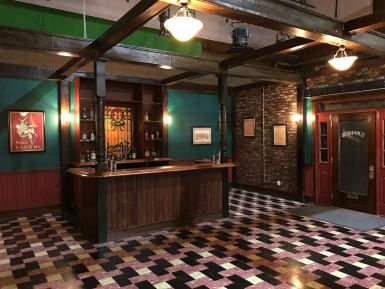 Erpelding's Intermediate Motion Picture Production class, MSCH-P361, uses the soundstage weekly. Each student writes and directs a two- to three-minute film, and communicates with Krahnke's art direction class on how to tailor the set. The classes collaborate on one film each week, with Erpelding's students rotating positions, and Krahnke's students designing the set as something new each week.
For Bloomfield's film, about a man infected with a deadly brain-controlling plague who returns to his favorite coffee shop to make one last cup of coffee before succumbing to zombification, that meant reconfiguring the bar to look like a coffee shop, and then flipping chairs and tables to suggest the chaos of an apocalyptic disease outbreak.
To prepare for her film, the second shot for Erpelding's class, Bloomfield sketched storyboards to give her cinematographer an idea of how she wanted to use the space and went through the script with her lead actor. The course emphasizes student collaboration, she said, so the production team can collaborate to make a different film and a different visualization of the same spaces every week.
Lighting in the soundstage proved challenging — after all, how can you simulate the soft warmth of sunlight with overhead studio lights? — but Bloomfield said she found the experience a rewarding reflection of professional film production.
"There's something way more fulfilling about knowing that you needed to start from the ground up, and you got a great finished product," she said.