New NIL course teaches students to create brands for student athletes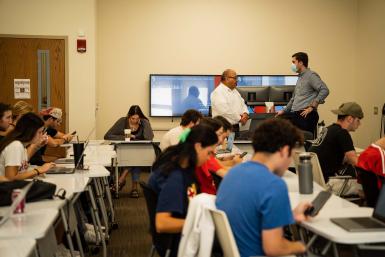 The Media School launched a new NIL Media Branding course this fall to teach students how to help student athletes create profitable brands. 
Recent changes surrounding NIL media branding now allow NCAA student athletes to profit off their name, image and likeness through endorsements and brand deals. 
Adjunct professor Les Morris proposed the course to Galen Clavio, director of undergraduate studies, last March. Morris said Clavio supported the idea right away and thought the course had great potential. 
"What I'm trying to do in the class is give students a background as to how we got here and prepare them to work in the industry," Morris said. "This is going to be a growth field for academic departments and sports agencies." 
Until July 2021, it was prohibited for student athletes to profit off their name, image and likeness. In June 2021, the NCAA board of directors adopted a temporary change to allow NIL activity to occur legally. When the new rules took effect in July, student athletes started signing NIL deals. 
"There aren't too many universities that have a class like this," Morris said. "So I think IU is in the vanguard of universities for NIL media branding. Our sports media program is so strong." 
Morris said he thinks the course will teach students how to analyze the student athletes' social media profiles and determine what his or her strengths and weaknesses are to help monetize their NIL. 
"There's a certain amount of branding in there," he said. "It's already created a cottage industry of advisors, agents and professors who are getting involved in this. We see universities creating NIL departments and heads of NIL. These are jobs I think the students can fill in the future." 
Gwen Parks, a junior and sports media major, said she is taking the course to learn more about NIL since there is not a lot of available information about the concept.
"The history behind NIL and knowing why student athletes are able to be paid is so interesting to learn because not a lot of people know about the developments that made NIL media branding possible," she said. 
The course is structured to teach students about NIL media branding and its history through lectures, guest speakers and hands-on assignments, such as writing pitch letters and engaging in branding. 
Evan Gerike, a senior and sports media major, said the class has looked at the Supreme Court cases that eventually allowed NIL media branding to take place. He said this history is important because it can help students learn what will happen next in the world of sports media.  
"As someone who wants to be a sports journalist and cover college sports, it's really important for me to learn about what the NIL landscape looks like and know how it works behind the scenes with how players are making money," Gerike said. 
Morris said he believes the subject of NIL will be fundamental to college sports for years to come. 
"I think that we've arrived at a moment in intercollegiate athletics that is a real sea change in not only NIL, but things like the transfer portal," he said. "Student athletes now have the freedom to do things that other students have always had: the ability to make money off their name, image and likeness."