New media production practicum courses offer hands-on experience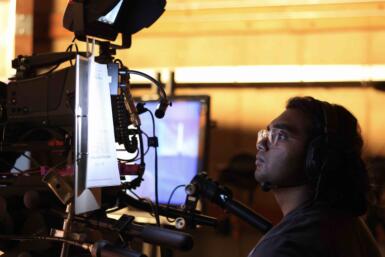 Media School Director of Undergraduate Studies, Galen Clavio, developed three new practicum courses for the fall 2023 semester. The courses – MSCH-X 386 Introduction to Live Event Production, MSCH-X 486 Advanced Live Event Production, and MSCH-488 Multicamera TV News Practicum – can be taken for three credits a semester for satisfactory/fail.

Kevon Wilson, who is the head of production for the Big Ten Plus broadcast, is the lead instructor for both the Introduction and Advanced Live Event Production courses. Eric Bolstridge, who is an adjunct instructor in video production at The Media School, is supervising the project that the Multicamera TV News students are working on.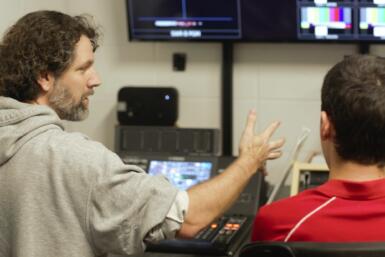 According to Clavio, one of the driving factors in the development of these practicum courses was that "there was a clear need to get more students into the production pipeline."  
Clavio collaborated with Wilson and Bolstridge over the summer to bring these courses to fruition. Wilson had expressed interest in a curricular option for students interested in live event production, and Bolstridge wanted more students working on productions throughout the semester.  
"The Introduction to Live Event Production is a course that is designed to onboard freshmen, or people who haven't done live event production before, in a way where they can get credit for it," said Clavio. "We've struggled over the last couple of years coming out of COVID with getting enough people to do productions, so getting people involved early and making sure everyone gets the same type of training is important." 
The interest in the Introduction to Live Event Production course was overwhelming and Clavio plans to continue enrollment for the spring 2024 semester for students who couldn't take the class this fall. Students enrolled in the course will receive hands-on training in camera operation, graphics, instant replay, audio, and technical direction. Once training is completed, students are then scheduled for live events.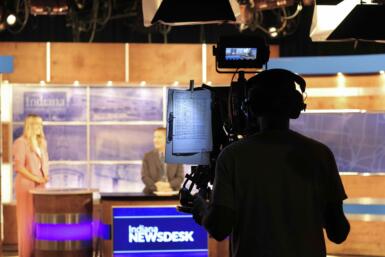 The Advanced Live Event Production and Multicamera TV News Practicum courses are tailored to students who already have production experience but are looking to hone their skills.  
"These classes are intended to bring more experienced students into the fold and give them the opportunity to learn on the job, get feedback in an organized format, and be able to earn some credit for those opportunities," said Clavio.  
Students enrolled in the Advanced Live Production course will have the opportunity to be scheduled for more live events than at the introductory level. In the Multicamera TV News Practicum, students are in class for three hours every Friday working on the WTIU program "Indiana Newsdesk," which airs on PBS television stations across Indiana.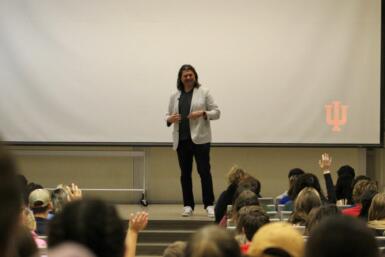 Clavio wants to continue to expand these partnerships with Indiana Public Media as well as add new courses for the spring 2024 semester. One of these potential new courses would be a Multimedia Newsroom Practicum that focuses more on content creation and storytelling as opposed to production.

"This is our way of connecting across campus, providing students with opportunities that are very difficult to get otherwise. It's structured with a degree program and providing partners on campus, like radio TV services, with the workers that they need to do more than what they've been able to do up to this point" said Clavio. 
Additionally, Clavio wants these courses to be an opportunity for students to get feedback from working media professionals that will aid them in their future endeavors. He hopes that students who come to The Media School know that this is a place where they will get professional hands-on experience that will carry them into their careers.