New Franklin Hall studio expands access to motion capture, broadcast facilities
A new Franklin Hall studio will be operational this week, expanding student access to production facilities.
Studio 9, located in 051 in the basement level, is a small facility designed with motion capture and short standups in mind. Students will be able to reserve the space using Connect2 and access the room themselves.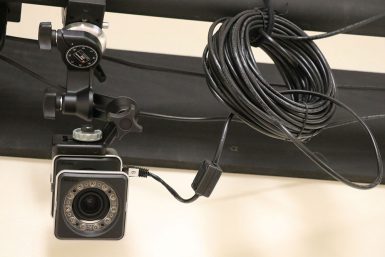 Previously, game design students who wanted to use the school's motion capture technology had to reserve part of the Ken and Audrey Beckley Studio. The studio was frequently booked and had to be staffed, making it difficult to access after business hours.
"We want to give better access for those students," said Dan Brown, assistant director of facilities/building manager.
Chabane Maidi, game lab manager, worked with Brown to ensure the space would be useful for motion capture. Motion capture technology allows filmmakers and game designers to create digital animations based on live human actions, allowing for more lifelike representations.
The new room has a tall ceiling, which is ideal for mounting the motion capture cameras. The studio makes it easier for actors to see what space they have to work with, and it allows students to put down mats so they can move around more easily.
Maidi also ensured there would be enough space for multiple actors. It's small, but it offers enough room for students to move around and not worry about knocking over any other equipment — something that was sometimes a problem in the Beckley Studio.
The studio isn't just for game design students. It will also have a green screen, lighting and a wall wrap with the Media School logo, so broadcast students can shoot a quick standup.
Sometimes, students just need 10 minutes in front of a green screen and don't need to reserve space in a larger studio, Brown said.
"The studio isn't just for one thing," Brown said. "It accommodates for multiple uses."
Studio 9 is still under construction, but Brown said the room should be ready for motion capture work in the next few days. It will be a bit longer before it's ready for broadcast standups, though. Brown said he's still waiting to get final equipment and lighting delivered, which have been either damaged in transit or on back order.
The studio cost about $25,000, said Jay Kincaid, director of facilities and technology.
Once Studio 9 is operational, the project's second phase involves connecting the studio to a nearby edit bay so students can film and edit in the same place.
Eventually, Kincaid said, he'd like to see the studio serve virtual reality production needs.
Maidi said he thinks more students will use the motion capture technology now that it's in its own space and easier to access.
"I'm glad students are able to use the space more freely with fewer barriers," he said.
He said he hopes students become more inspired to use the space and come up with more interesting ideas.
It could also create more interdepartmental work, Maidi added. Students could work with people from the Department of Theatre, Drama and Contemporary Dance, for example, to create motion capture videos.
"Cool things can come from it just being there," Maidi said.
More: