New charter school features K-8 media curriculum developed in consultation with Media School faculty
Karli VanCleave and Katrina Nickell appear in the Beckley Studio.
Students at Bedford Elementary School just outside Bloomington are already journalists in the making. The fourth and fifth grade students have turned their daily announcements into a daily newscast.
It's the Stalker Wildcat News.
A screen counts down 5, 4, 3, 2, 1.
Footage is shown of the fourth and fifth graders, Raiden and Mia, doing the morning announcements show.
Each morning, the Stalker Elementary Media Club puts on a newscast similar to ours here at IU NewsNet. It's complete with announcements, weather, interviews and special reports.
Gage Brown, junior meteorologist is shown talking about the weather.
They even have a makeshift green-screen made out of green fabric. The five-minute-long newscasts are filmed the night before and edited by teacher Brian Young.
The children are shown filming the newscast.
So to encourage these students to stay involved in news, The IU Media School has actually invited them here today for a tour.
Karli is shown interviewing the teacher and students.
So what's it been like creating this daily newscast?
It's been a blast. These kids make it easier day by day to to make this news.
Well thank you so much.
And that's all today for the IU NewsNet Daily. Be sure to check out our Facebook and Instagram page. I'm Katrina Nickell, and I'm Karli Vancleave. We'll see you Thursday for the full IU NewsNet show. From all of us here at IU NewsNet and the students at Stalker Elementary School, thanks for watching!
It started with a simple suggestion: Maybe the morning announcements at Stalker Elementary School could be a little more interesting. The students at the Bedford, Indiana, school didn't seem to pay much attention, teacher Carrie Young said. Her husband, fourth- and fifth-grade teacher Brian Young, volunteered.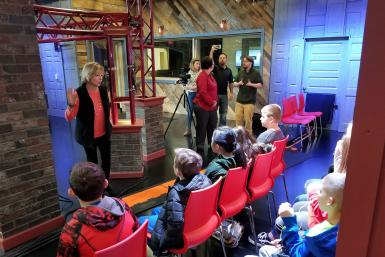 Morning announcements expanded to a daily newscast with background music, a weather report and custom graphics. Now, it's expanding to an entirely new school.
The Youngs are gearing up for a fall opening of Lawrence County Independent Schools, a K-8 charter school they're opening that features a media-inclusive curriculum, developed in collaboration with The Media School.
Brian Young took his class from Stalker Elementary to visit The Media School in November 2019. After the visit, he decided he wanted to develop a more expansive media-centered program for students.
"After visiting IU, I saw there were way more things to do in media than just making the little tiny news program that we were doing," Young said.
In January 2020, North Lawrence Community Schools — including Stalker Elementary — consolidated elementary schools, moving Young from Stalker and starting him on the path of considering opening a charter school with his wife. The difficulties of adjusting to the pandemic in a reorganized school district meant the media program in Young's classes had to go, but it became one of the priorities for the new charter school.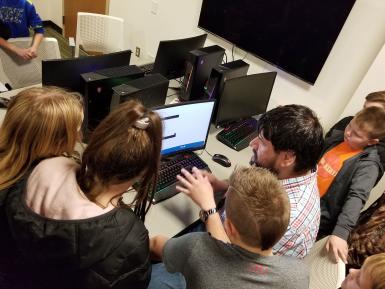 At Stalker, Young said he saw the value in media education firsthand: a student weatherman using online resources to learn more about atmospheric science, scriptwriters and proof-reading anchors improving verbal skills, all in the context of project-based learning. Media School senior lecturer Teresa White, one of the lead faculty members consulting with Young, said these benefits and the ubiquity of media messages make this a particularly vital area to focus on.
"We live in a media-saturated world, more than ever," White said. "Students have a device in their hands pretty much from the time they can speak these days. Depending on how vigilant their parents are in controlling what they have access to, they're going to be bombarded with media messages from a very young age, even more so than they ever have before."
The charter school also gives the media program a wider range of available technology. Before, access was limited: Young was working with a student in the free podcast-making platform Anchor once at his old school, only to find one day that the school corporation had blocked the website. Many schools, Young and White said, are overwhelmed by the internet and choose to limit usage in the classroom. But they say this isn't the right approach.
"I think the argument here is: This is the best place to teach them how to be good digital citizens and teach them how to make use of these tools," White said. "Where else are they going to learn it?"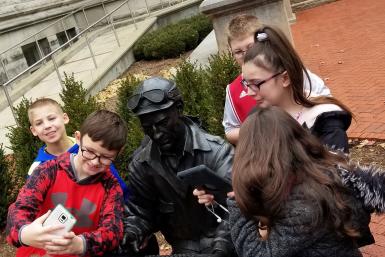 But, that doesn't mean education is anchored to the platform: Young said younger students will focus more on media literacy before building up to production-focused learning in later grades. While Indiana's education standards already include media literacy of some sort for each grade, LCIS's production focus differentiates it from other schools. But the nuts and bolts themselves aren't the point — it's about the process.
"You're not trying to teach the technology," White said. "You're trying to teach them how to imagine a project, complete a project and make it for a certain purpose."
White also said she sees the program as a potential feeder for some of The Media School's precollege programs for middle school and high school students, giving them the opportunity to explore both career options and life on a college campus. Young said he's seen students expand their horizons firsthand — last year, one of his students switched his dream career from YouTuber to television station news director after finding a passion for working behind the camera.
"I have students right now, a lot of them assume the only thing they can do is play basketball, play baseball or work at the foundry here, the GM factory," Young said. "I don't think a lot of them know there are other things they can do."