NBC's Dotson shares tales, lessons of 'The American Story'
Claire Aronson | Oct. 8, 2013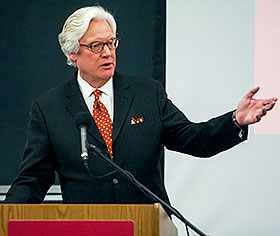 NBC's Bob Dotson gave his audience a taste of the storytelling skills that have created a devoted following for his Today Show segments about "ordinary people doing extraordinary things" during a talk Monday night in the Ernie Pyle Hall auditorium.
As the school's first fall Speaker Series guest, Dotson shared stories of his 40 years in journalism, many of those years uncovering the stories of people who rarely make the news. Along the way, he offered tips for journalists in the crowd about how to cover what he calls the "most underreported story in the journalism field," the investigative profile.
"The best kind of story is not what shows or tells you, but helps you experience," he said of his "The American Story" segments on The Today Show and other NBC news programs. "Like a good novel, you are sucked in. At the heart of it all, it is the story."
For Dotson, journalists are only as good as the story they help unfold. Over the years, he has traveled America, finding the "blueprint that Americans have written" to help solve the challenges that many still face today.
Dotson drew on his latest book, The American Story, which addresses the stories he's told, the backstories of how he found his subjects, and a bit about his own life and path to becoming a journalist.
"The book and my life were filled with people who, no matter what hand was dealt to them, they found a way to get through it," he said. "Those kind of folks to me are kind of like a beacon. They are the reason we are who we are."
Florence Thompson is an example of this triumph, Dotson said. Thompson, the main subject of the photojournalist Dorothea Lange's famous dustbowl photo, was 29 at the time of the photo. She had five children and her husband just died. Dotson talked to her years later to get her story. He said Thompson told him that the day the picture was taken, she had had to sell her car's right front tire to get food for her family.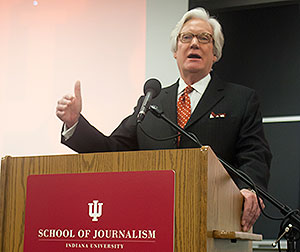 Dotson said he asked Thompson why she didn't lose hope, and he recalled her response was that if she had, America wouldn't have made it.
"For me, it was a metaphor," Dotson said. "If the Florence Thompsons of the world lost hope, we wouldn't have been where we are. In my life, I made a conscious decision to kick the other tires and assess why they are still up and how much tread they still have. That is a story of a journalist."
Dotson's own story as a journalist began in 1969 at the NBC affiliate in Oklahoma City, where he produced and directed 19 documentary programs in six years. He joined NBC News in 1975 as a reporter, and then became bureau chief in Dallas.
Throughout his talk, Dotson shared examples of people who are rarely in the news, yet made contributions in their communities. One was Paul Sykes, who helped the people in Kingfisher, Okla., by singing at the railroad station for donations from travelers. He used the money to help feed the community through tough winters.
Dotson, 26 at the time of the story, produced a documentary about Sykes, who was buried in an unmarked grave. The film won several national awards and was his ticket to NBC News.
One of Dotson's stories was more personal. Growing up in the St. Louis area, Dotson recalled his father's remoteness and their weak father-and-son relationship. But one night, his father told his son his story of spending 26 years getting a college degree in night school, the losses and gains in business, and his opening his own company, Dotson Optical. Dotson said he realized that stories are all around him, and it's the job of good storytellers to help people share theirs.
"The reason I am here is the people who all came before me," Dotson said.
During the question and answer session, Dotson shared storytelling advice, reminding the students in the crowd to build in silence during interviews, to allow people to fill that silence with their stories.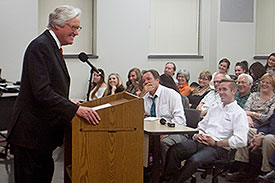 One student asked about the risk of telling positive stories and ignoring the negative. Dotson pointed to the segment showed at the beginning of the talk, "Farm boy to center stage," that featured an opera singer who, in his late 20s and with no training, embarked on what became a successful stage career.
Dotson reminded the audience that the segment also talked about what the man had done before he was 28.
"That is how we got that quote that we ended the piece with, about him 'being in a box by now' if he hadn't changed his life," Dotson said. That changed the whole piece, Dotson said, giving it depth and character.
That's the key to reporting beyond the "cliché" story, the kind that is easy to produce – and easy to forget, he said.
"If you don't touch any emotions in your story, then what is your story?" he said. "You can spend a whole lifetime learning something new. In our business, you can live for every day, you wake up and it's something new. This isn't a job, it's a calling. You would do it even if you weren't paid for doing it."
His "calling" has earned many accolades. During his career, Dotson has received eight national Emmys and the Edward R. Murrow Award for writing six time. His documentary, El Capitan's Courageous Climbers, was the winner of seven International Film and Video Festivals awards and earned the CINE Grand Prize.
Dotson's visit also was part of the School of Journalism's Faculty Lectureship series. Earlier in the day, he visited classes, had lunch and dinner with students, and recorded an interview with associate professor Mike Conway, who is conducing an oral history project on TV newscasters.
Conway also introduced Dotson to the packed auditorium and to the crowd in a nearby classroom watching the talk via livestream.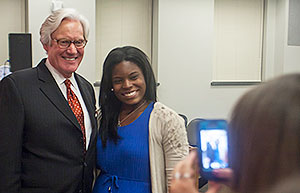 "Bob Dotson is one of the greatest storytellers in TV news history," Conway said. "The way he communicates is unmatched, and he has worked at a high level for decades. He is a very inspirational speaker. For me, he represents the best TV news can be."
Senior Haley Nelson, who is focusing on broadcast journalism, welcomed the crowd, and said she remembered watching on The Today Show as a child.
"He is proof that a strong writing background will take you far in the journalism field regardless of the medium," she said.
The fall Speaker Series continues with Washington Post columnist David Ignatius at 7 p.m. Nov. 18 in the Whittenberger Auditorium in the Indiana Memorial Union. The talk is free and open to the public.
The school's Speaker Series gives students and area residents the opportunity to meet with some of the top media professionals in the country. Previous speakers include Seymour Hersh, Byron Pitts, Lara Logan, David Brooks and Nina Totenberg.