Nationally renowned journalists talk truth and change at Arnolt Center symposium
The next generation of investigative journalists is vital to democracy in a highly polarized world, according to CNN's national correspondent Sara Sidner. She was the keynote speaker at the Arnolt Center for Investigative Journalism's symposium on Thursday.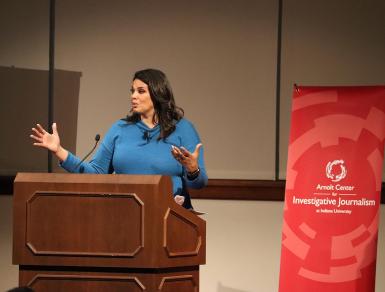 Sidner discussed her experiences as a journalist, the importance of big and small investigative stories and the need for constant truth-telling.
"I care so much that we have more people like you coming into this business who care about the truth and who care about democracy and know how important the truth is to democracy," Sidner said.
The symposium also showcased two panels featuring nationally renowned journalists.
The first panel, "Investigative Journalism in Sports," focused on how journalists can go beyond traditional sports reporting to uncover important truths within the sports world. Tisha Thompson, ESPN reporter, said that investigative reporting in sports is equally as important as news journalism because it holds those involved accountable.
"If you truly love something, you want it to be the best version of itself," Thompson said.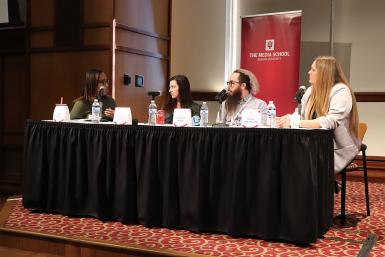 Steve Rich, a Pulitzer Prize-winning data editor for the Washington Post, explained that journalism allows people to create lasting change.
And they both agreed with their co-panelist Marisa Kwiatkowski, an investigative reporter at USA Today, that their work was bigger than the game.
Kwiatkowski said she does the work in "the hope for change and for exposing something that's wrong in the hopes that it will be made right."
The panelists were asked what's next in sports journalism, and Thompson said this is a moment of reckoning for women in sports.
"I think Marisa's reporting actually jumpstarted it. I think it started because of Marisa's journalism. I just want folks to understand: a hundred years from now we'll still be talking about what Marisa and her colleagues did," Thompson said, referring to Kwiatkowski's groundbreaking reporting at the Indianapolis Star that exposed the sexual abuse scandals and corruption at USA Gymnastics.
Kathleen Johnston, director of the Arnolt Center, said the symposium was meant to showcase the journalism the Center's students do, but also for students to meet prominent investigative reporters.
The second panel, "Investigative Journalism in a Polarized World," featured three investigative journalists eager to give advice to young reporters on doing their best work.
"If we can show people what's happening and they can see it with their own eyes, and they hear it, then there are possibilities out there," Walt Bogdanich, the Pulitzer Prize-winning New York Times investigative reporter, said.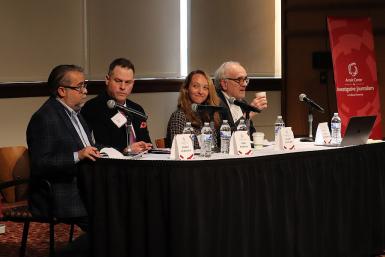 Tom Powell, the assistant news director and anchor at NBC Fort Wayne, returned to the concept of process journalism, and urged young reporters to show their work.
"Use your investigative skills in your daily reporting," he said.
Joining Bogdanich and Powell on the panel was Ellen Glover, BAJ'18, a reporter at Built In Chicago. Glover was on a Pulitzer Prize-winning team last year and talked about the year-long investigation into the life-changing injuries caused by police dog bites.
"Polarizing subjects are probably the most important ones to cover, even though they are the most difficult," Glover said. "It's worth doing because you can make small changes."
In her keynote address, Sidner also talked about working through the difficulties of journalism.
"You need to remember who you're doing this for," Sidner said, "it is for the public you are supposed to be serving."
She talked about receiving backlash for some of her work, but said telling the truth is what is important.
"Truth isn't constant, and you must check out everything to get the truth," Sidner said.
Sidner led CNN's coverage in Minneapolis after George Floyd's murder. She showed a portion of her live interview with the Minneapolis police chief. It was an impromptu interview, Sidner said, and she had to think quickly on her feet.
Freshman Samantha Smith said she felt inspired by Snider's words.
Sophomore Lucinda Larnach said she was in awe of Sidner's presence while she spoke about investigative journalism.
"The way she was so captivating and passionate about what she said made me want to go out and be a better journalist," Larnach said.