Nasar recounts working on Beautiful Mind
By Sara Amato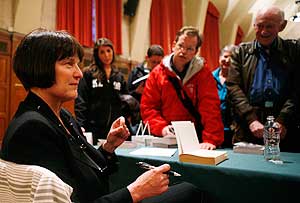 Sylvia Nasar understands the allure of intellectual pursuit and curiosity. She studied literature before becoming an economist; she worked as a New York Times reporter before becoming an author and, now, a professor.
That curiosity drew her to the story of John Nash and resulted in her award-winning biography, A Beautiful Mind, about this mathematician who struggled with schizophrenia.
Nasar described her work Tuesday night at Alumni Hall in the Indiana Memorial Union. Hers was the last of the School of Journalism's spring Speaker Series talks.
The author said she first heard of Nash in 1994 while working as an economics reporter for The New York Times. Nash, then a professor at Princeton  University, had been nominated for the Nobel Prize in economic sciences.
Out of 100 reporters at the news conference for Nash's prize, Nasar was the only one to pursue the story of the man who indeed did share in that Nobel Prize, an award based largely on his early work. Through multiple interviews, Nasar wrote an article for the Sunday New York Times about a brilliant mathematician's struggle with paranoid schizophrenia.
In her interviews for the story, Nasar said she traced Nash's life from a rambunctious child to a brilliant college student who studied at Carnegie Mellon, MIT and Princeton University, unraveling several classic problems and gaining some notoriety. In the late 1950s, soon after his marriage, Nash started to show signs of schizophrenia, she said. Nash was hospitalized repeatedly and, by the time he was 40, he had lost everything considered to be essential: his job, income and health.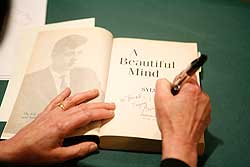 But it was Nash's third act, the time frame where he started to recover from his illness, that Nasar deemed as "beautiful." She spent two and a half years examining Nash's life and work for A Beautiful Mind, later deciding to focus on Nash from age 20 to 30 because, to her, it was his decade of extraordinary creativity.
Her book and the subsequent movie adaptation describe Nash's recovery. Today, he remains on the faculty at Princeton and has posted his own autobiography on the Nobel Prize organization's Web site.
Nasar herself saw success with her book. Published in 1998, A Beautiful Mind won the National Book Critics Circle award and was nominated for a Pulitzer Prize for biography. It was adapted into a movie starring Russell Crowe as Nash.
Today, Nasar is the James S. and John L. Knight Professor of Business Journalism at Columbia University, where she co-directs the master's degree program in business journalism. Recently, she co-edited The Essential John Nash and edited
The Best American Science Writing 2008, an annual publication that brings together the best or most provocative science writing of the year. She's working on a book about 20th century economists.
But she said Nash's story is never far from her mind. After the book's publication, mail poured in. She said the one letter she'll always remember was written on a bright neon orange sheet of paper sent by a man named Berkley Baby. Scribbled on the piece of paper were the words, "John Nash's story gives me hope that the world will come back to me too."
"To me, the notion of someone who had been so lost could be found again … could come back," Nasar said. "That made me think this was a fairy tale, a Greek mythology."