Mudavadi, S V present research on innovation in journalism industry
Two doctoral students are using funding from The Media School to study the evolution of journalism and digital media.
Kevin Mudavadi and Shobha S V presented their research at the Media Arts & Sciences Colloquium on Friday.
Mudavadi and S V are recipients of the Kern Scholarship for Innovation in Journalism. The scholarship supports research on new journalism concepts, content and techniques, especially those that support the profession's public affairs mission.
Both students thanked the scholarship donors for their generosity. Gerould Kern and Jewell Bleeke established the scholarship and were in attendance Friday.
Mudavadi presented "Journalistic Migration or a Fresh Challenge to Mainstream Media Gatekeeping in Kenya?" and S V presented "How Do Journalists Measure Impact of Their Work?" during the colloquium.
Journalistic Migration or a Fresh Challenge to Mainstream Media Gatekeeping in Kenya?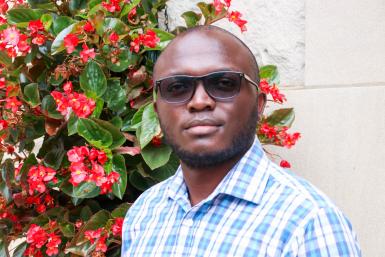 Mudavadi's research focuses on dis- and mis-information content on digital media, audience perception of the media, journalists' perception of the media and media trust.
Based on in-depth interviews with Kenyan journalists, Mudavadi's study investigated participants' perceptions of journalistic migration from mainstream media houses to digital media platforms. Mudavadi interviewed 22 current and former journalists, discussing their experiences, challenges, social media policies, news consumption and sharing habits.
Digital platforms provide alternative ways of telling stories and make storytelling more accessible for voices often underrepresented, one of the participants told Mudavadi.
"We have many more questions to ask about the role of journalism than we can think of," Mudavadi said.
He will continue investigating audiences' trust in media in part through a trip to Kenya this summer, which will include a survey of 700-1,000 participants.
How Do Journalists Measure Impact of Their Work?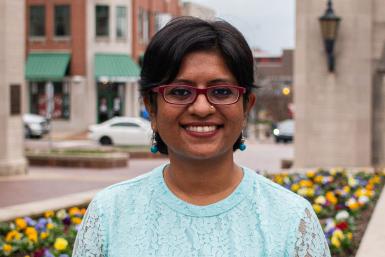 S V's work explores journalism through the lenses of gender, labor and democracy. Her Kern project examines the changing operating models of journalism.
Much of the industry now operates under a philanthropic model — journalism supported through donors — thanks to the changing economics of the field. This forces the journalism industry to empirically measure the impact of its reports among its audiences.
S V conceived of the idea for her Kern project while she was working for the International Center for Journalists.
"It is a unique challenge because until now, journalists have not had to think about (the tangible, measurable impact of their work)," she said.
Digital media allows the field to use analytics to measure story performance. Additionally, though, the philanthropic business model demands ways of measuring impact that include a systematic measurement of societal outcomes, outputs and impact.
The philanthropy-supported model also directly influences what stories get told, S V said.
Her project is a comparative study of journalism organizations in India and the United States. Still in the research phase, S V is conducting in-depth interviews with 10-12 stakeholders including journalists, nonprofit journalism networks, grant organizations and impact researchers.
So far, she has studied the frameworks of two news organizations in India: Citizen Matters, a media outlet focusing on civic news, and CGNet Swara, an audio-based platform allowing people to report local news through phone calls.
During the Q&A portion of the colloquium, Kern, former senior vice president and editor of the Chicago Tribune, said he was one of the first journalists to measure audience reactions during his career. There was often a gap between journalists' perception of their audience and the audience, he said.
"I admire your work, and I think it is really important," he said to S V after her presentation.
The colloquium is held from 12:40-1:30 p.m. each Friday online and in Franklin Hall 310.