Monaghan supports Reuters team covering Ukraine war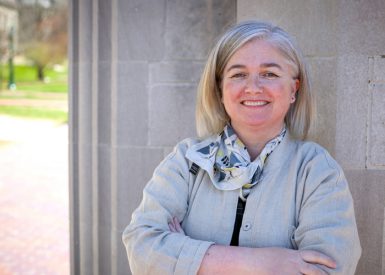 In addition to her work at The Media School, professor of practice Elaine Monaghan has started working with Reuters, her professional alma mater, to cover the Ukraine war.
Through this contract work, Monaghan supports a virtual hub that allows writers to maintain constant coverage of the Ukraine war and other events in Russia. 
She reached out to Reuters to offer her support early this summer. Monaghan said she wanted to contribute her background and knowledge because she "knew how hard (her) colleagues would be working in the field and wanted to be part of a team supporting them."  
With previous postings in Moscow and Kyiv, Monaghan's international journalism experience informed her ability to work with the virtual hub. 
"This is a sort of real homecoming for me," she said. 
Monaghan majored in Russian and German at the University of Glasgow and graduated with a master's degree in 1993. She then joined Reuters' graduate training program in London, underwent intensive multimedia training and began working internationally. 
Her first posting was to Moscow in 1994 — "sometimes doing exactly the kind of work I'm doing now, but very often being out in the field and doing good old-fashioned, shoe-leather reporting, which is not so much part of my life now," she said. 
Following her time in Russia, Monaghan became the chief correspondent for Ukraine and Belarus in Kyiv. 
"Those few years, with my Russian and then living in Ukraine, I had a lot of experiences during that time that prepared me for this job," she said. 
This job — which Monaghan compares to being a sort of air traffic controller — includes monitoring the wires and Russian and Ukrainian media and social media activity, trying to verify information and being in contact with colleagues in a plethora of different places, she said.
"Some of my former colleagues that I worked with all those years ago are still working for Reuters in the field and out there risking their lives and their wellbeing covering this very difficult story, so it's a good feeling knowing that when I log in and help on the virtual hub, somebody else gets to go to sleep," she said. 
This "professional homecoming," as Monaghan deems it, has also been an opportunity to update her skills, she said.  
"The best thing of all is to be part of a team of people trying to tell a really complicated and dangerous story as accurately and as quickly as possible and to provide quality information to a global audience, which in the end is what journalism is all about," she said.
A veteran reporter, writer and correspondent, Monaghan has covered stories and learned from sources around the world.
"I think what this story teaches us is how important it is to remember that even when you're covering a story from a sort of global perspective, that there are real individual human beings that are being harmed, and that it's in their name that we tell these stories," Monaghan said.