Media School team works to make camera equipment more accessible for paralyzed student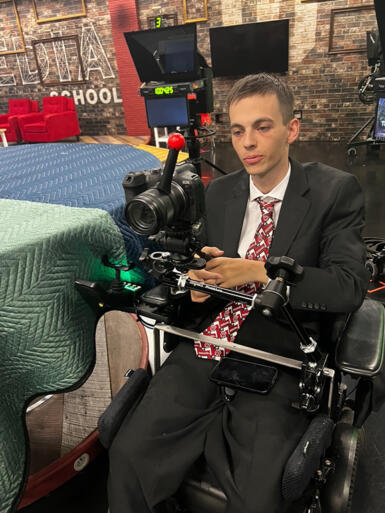 A team of IU Media School faculty and staff teamed up with machinists from the psychology department to adapt camera equipment for senior Josh Fugate, a student studying sports media who is a quadriplegic.  
Fugate grew up in Fishers, Indiana, and played basketball all throughout grade school. He suffered a spinal cord injury during the summer before his freshman year of college that left him paralyzed from the chest down. After his injury, he decided to further his education at The Media School and pursue a degree in sports media to continue his involvement in sports through journalism and maximize his independence.  
"I grew up playing basketball, so that's the main sport I want to follow," Fugate said. "I know the sport really well, so I am comfortable in front of the camera because I understand a lot of the nuances of the game."  
Last semester, Fugate took a broadcast journalism class with visiting senior lecturer Cheryl Owsley Jackson, who first addressed the need for more accessible camera equipment for Josh. 
"Josh has allowed us to figure this all out," Owsley Jackson said. "I believe everybody should be able to report here and tell their stories. My idea was that he should be able to use this equipment."  
Owsley Jackson and Fugate collaborated with Allen Major, the technical specialist at The Media School, to begin adapting equipment to enhance camera accessibility for  students who are paralyzed.  
"It took a whole team of people to be able to make this happen," Owsley Jackson said. "Allen has led the team on how to get this going, but it had to be cooperative or else it just wouldn't have worked."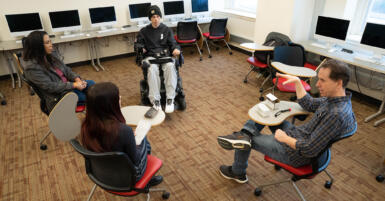 The broadcast journalism class required students to shoot video footage and tell stories. Owsley Jackson said the students worked in teams and that for Fugate to be able to be part of the team, he needed to be able to shoot part of the footage.  
"His class used a broadcast kit with a camcorder, tripod and mics because they were shooting interviews," Major said. "The camera we gave him is actually a little more user friendly because it's a touch screen. We tried to clamp it onto his chair and that didn't work, but his wheelchair company makes brackets on the side, and we figured that we could make a bar that goes across. We gave him a two-inch strip of stainless steel that goes in a rectangle. Then, we mounted a clamp to it so the camera is at eye level." 
The process to adapt the equipment involved a lot of trial and error. Major worked with machinists at the university who helped construct the camera mount for Fugate's wheelchair. The head machinist Jesse Goode and his team were eager to help by making the specialized bracket.
Major also said he would ask Fugate what he could and couldn't do each time he shot footage. Their latest adaption is a piece of equipment that lassos around the lens and allows Fugate to push a knob to zoom in and out.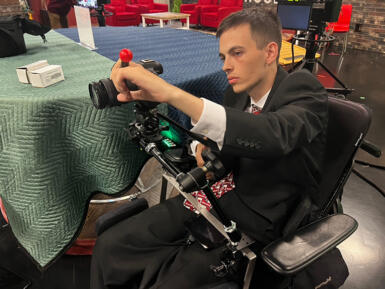 "I do have a good grasp on the reality of my situation," Fugate said. "In needing help for a lot of different things, I am bound to my peers to an extent on whether they've been willing to help, and I can't commend the group here enough for all that they've done. If it weren't for them, I wouldn't have been able to do any of this."  
As Fugate works to finish his degree, the team said efforts to adapt camera equipment will be ongoing.  
"If you don't have someone like Josh who is willing to speak up and go through the strenuous process of trying things that may not work, you have no one else who can do this job," Owsley Jackson said. "He started something that I think is going to help other students in the future."