Media School team prepares to launch Indiana Broadcast History Archive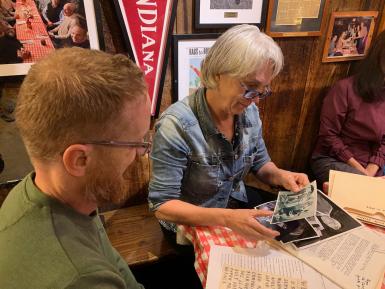 Media School faculty, staff and students are preserving the history of broadcast in Indiana, creating the first archive of its kind.
Supported by a $25,000 grant from the IU Bloomington Public Humanities Project, professor Mike Conway and archivist Josh Bennett are creating the Indiana Broadcast History Archive, a collection of materials from Indiana radio and television stations from the 20th century to today. Conway and Bennett have been working on the project for about two years, and students in Conway's History of Journalism class are getting hands-on archival experience as the IBHA nears its launch.
"Broadcasting has been a very important part of all of our lives for over 100 years, but there isn't a lot of systematic saving of material for future people to see what it was all about," Conway said. "We're trying to find a way to bring a lot of it together."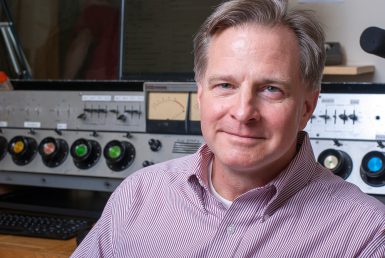 The grant allowed Conway and Bennett to start processing their first major acquisition of materials, the Howard Caldwell archive.
Caldwell was one of Indiana's most prominent news anchors. He worked for WRTV6 in Indianapolis for 35 years and saved many documents and recordings from his time there.
Ginny Hingst, Caldwell's daughter, donated much of her dad's material to the IBHA.
"He did a heck of a job preserving material over the decades," Hingst said. "And it just happens that his career nearly perfectly mirrored broadcast journalism's beginning and sweet spot, so to speak."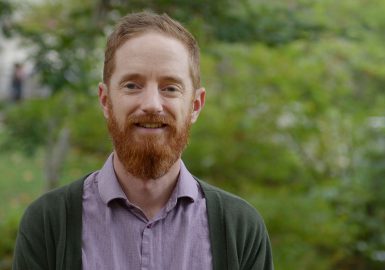 When Caldwell died in 2017, one of his former co-anchors, Ken Beckley, BS'62, asked Hingst to save all of Caldwell's materials. So she moved hundreds of manila file folders filled with notes and scripts, as well as video footage, from her family home to her current house.
Hingst said most of that material is going to the archive. She said she decided to donate her dad's material to the IBHA after meeting with Conway and Bennett at Nick's. Their enthusiasm about the archive and history inspired her to give the materials to the IBHA, she said.
"Rather than just keep the stuff for myself, and hopefully my kids, I would rather it be available to anyone who wants to use it," Hingst said. "I know that would be the attitude of my dad. Deep down, it's kind of fun to keep my dad alive a little bit. Keep his name alive."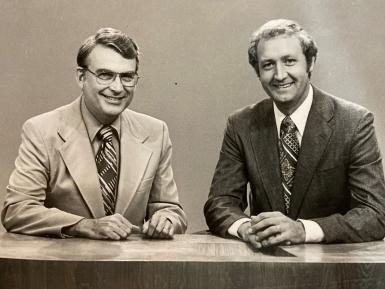 Bennett is currently processing the Caldwell material, digitizing videos and adding metadata to them. Bennett said many of the VHS tapes he's processing have up to six hours of footage on them, so it takes a full workday to digitize a tape, because he has to watch it in real time.
Even though it's time-consuming, Bennett said he loves his job.
"I just love that I feel like I'm saving some kind of story that could be lost forever if I didn't do it," Bennett said. "It just feels really good."
Students in Conway's History of Journalism class this semester are helping process materials for the archive. The students log videos from Caldwell's material, identifying what happens in the video and noting what is interesting about it.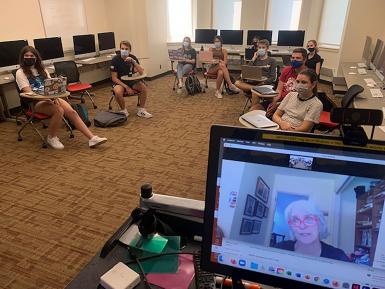 "What I'm using this project for is kind of a learning experience of how an archive works," Conway said. "Because part of what we talk about in a history class is not just what happened, but whose history gets saved."
Junior Lela Sibley is working on collecting secondary sources for the archive to lay a groundwork for the general history of Indiana broadcasting.
Sibley said she has enjoyed going to the library to research for the archive.
"I've never been a part of any sort of research or archive before," Sibley said, "so I think it's cool, because I've never been able to process and synthesize information like this."