Media School students, Throckmorton produce bank commercial
The commercial starts with a family in IU gear watching sports on TV.
There are moments in life when you have to be in the zone and take care of your finances.
A woman walks in with grocery bags and flips on the light.
"Hey honey, did you pay the electric bill?"
"Yes dear."
The dad picks up his cell phone on the couch and pays the bill through an app, while watching the football game.
For those moments, the First Savings Bank mobile app and online banking can help.
"Taken care of."
The family stands up and cheers because their team scored.
First Savings Bank gives you the flexibility to do your banking, wherever, whenever.
The commercial shows the grandmother using a tablet to pay her bills online also.
Ready to get into the game? Switch to First Savings Bank.
Lighting and sound need to be just right. Actors have to be directed to their positions, and sometimes, fed their lines. Clients are onsite, critiquing every line of dialogue and every shot. The shoot lasts only one day, so there is little to no room for error.
Producing a commercial is not an easy feat, but that did not stop students from The Media School from doing just that.
Last fall, lecturer Jo Throckmorton was approached by Contag!ous advertising in Louisville, Kentucky, about an opportunity for students to submit their ideas for a commercial for First Savings Bank in Clarksville, Indiana. Throckmorton said CEO of the agency Jim White heard how The Media School has been evolving as a center for production and wanted students to get involved with the project.
Senior Adam Lee from Throckmorton's Digital Cinematography class wrote the winning commercial. His idea earned him $1,000 in scholarship funds and the chance to direct the shoot. Lee said he believes his idea was chosen because the concept was simple and easy to execute logistically, but still held an effective message.
"My concept was basically a family sitting around their TV watching an IU basketball game," said Lee. "It was simple but still appealed to audiences, so that's why I think they chose it. Plus, the commercial will be played at every home basketball game, so I guess it's appropriate."
In the commercial, the family, clad in IU gear and holding various mobile devices, watches an IU game when one member realizes he forgot to pay a bill. He quickly logs onto his bank's app, pays the bill, then goes on cheering the team with the rest of the family.
A team of about 10 students from the class spent one day during winter break shooting the commercial on a set just north of Spencer, Indiana. They were equipped with a tight budget to shoot the commercial, and professionals in the field to help mentor and educate them during the shoot. Every student who worked on the shoot was given a small scholarship from First Savings Bank as well.
The ad for First Savings Bank was the first commercial Lee had ever written or produced. He usually works with video art and experimental film, so working on a commercial pushed him out of his comfort zone, he said.
"It was reassuring that people liked my ideas enough to go for it and put their company name behind it," Lee said. "It proved that I can do things that are different from my usual work."
In addition to gaining confidence, Lee said the shoot also taught him lessons about turning artistic vision into a completed piece.
"The end product didn't turn out as exactly as I envisioned," Lee said. "Commercial work is so different because you have to take the agency and the client's opinions into account. I'm still proud of my work, though, and it shows I have a certain competency working with this kind of camera and this caliber of crew."
Nick Heighway, a senior in The Media School who is studying theater and business, said he learned lessons as an assistant director on the First Savings Bank commercial shoot that he would not have been able to learn in the classroom.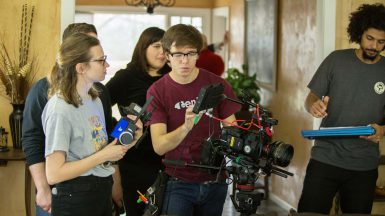 "The classes in The Media School teach you how to use the equipment, but having an experience on an actual set gives you context to all those things you've learned," Heighway said. "Experiences like this give you knowledge for working on productions like that in the future."
Heighway's role as an assistant director included making sure the actors were ready, calling out orders to the set when the cameras started rolling and making sure the director had everything he needed for the shoot to run smoothly. Heighway said he never would have been prepared to work on a real set with professional actors and industry people if it had not been for Throckmorton's cinematography class.
"The kind of format Jo's class has is really nice because you're able to learn the information in a context of how it would actually be used," said Heighway. "Some of the upper level classes are taught so that you're learning how and why things are done instead of just what is being done."
For senior Tyler Carrell, working on commercial shoots with Throckmorton yielded more than lessons — it landed him a job. Carrell, who was on the team for the First Savings Bank commercial, also helped Throckmorton on the set of his commercial for IU last summer. The commercial was part of a series of ads that follow famous hoosiers through their journey at IU. This particular shoot focused on ESPN anchor Sage Steele.
Carrell was one of 15 students from Throckmorton's IU sports production class to work on the Sage Steele commercial. He and the other students worked alongside Fred Murphy and Jack Green, who worked on the films 50 First Dates and Hot Tub Time Machine.
During the shoot, Carrell made connections with professionals and landed a gig shooting the Kentucky Derby at Churchill Downs. Carrell said he never would have been prepared for the gig if it had not been for the experiences Throckmorton had offered him.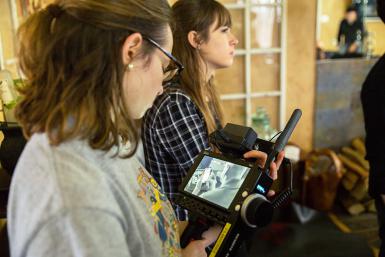 Throckmorton said he hopes that as The Media School continues to evolve and grow as a place for production, he will be able to provide students with more opportunities like these to apply the skills they are learning in the classroom practically.
"The telecommunications department was set up very much as a research school for theory and advance scholarship," said Throckmorton. "While The Media School definitely still has those opportunities for students, it continues to offer more and more opportunities to put the theory into practice."