Media School student launches College Football Student Media Poll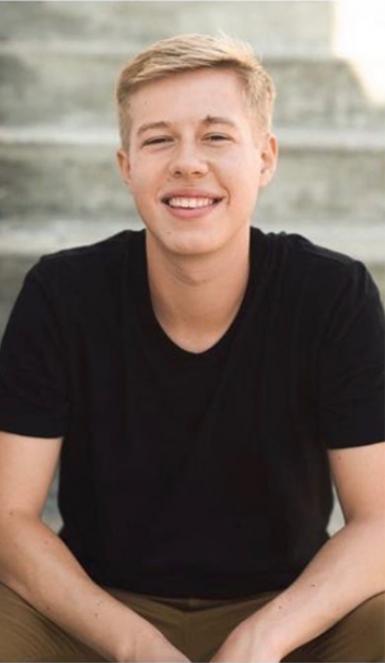 For decades, college football fans have followed the weekly Associated Press College Football Poll — compiled by professional sportswriters across the country — to learn how their teams are ranked. Now, a new national poll created by a Media School student gives collegiate journalists a voice in sports polling.
Like other established college football polls, the College Football Student Media Poll, launched this year by sophomore Patrick Felts, ranks the top 25 college football teams across the country. More than 100 college journalists across the country vote weekly. Voters include students from every Power Five college football conference and some independent schools as well.
Felts and his team released the first College Football Student Media Preseason Poll on Aug. 9. Polls are released weekly on Sundays at noon.
Felts, an Indiana native and an avid Colts fan, grew up watching football every weekend. At a young age he realized that football, and especially college football, would be a continued interest for him.
"Football has always been my thing," Felts said. "I want people to see the poll and recognize the importance of student media."
The poll seeks to bring forth collegiate voices that are most closely tied to college football teams and players themselves, Felts said. Data and polling director Colin Kulpa, a Media School senior, said this poll gives a unique perspective that larger, professional journalism outlets cannot achieve.
"All of us involved want it to be a place for student voices to be heard, instead of just national reporters covering teams, because we are the ones ingrained in the college experience," Kulpa said.
The College Football Student Media Poll has not only provided students the opportunity to learn more about sports polling, but also about other areas of sports media.
One of the largest off-shoots of the College Football Student Media Poll is the "Student Media Poll Podcast." Felts, along with his fellow poll voters, discuss their opinions on the outcome of the poll and why they ranked teams where they did. Fellow voters Christian Booher and Jack Gleckler, of Central Michigan University and Ohio University, respectively, host the "Back 2 MACtion Podcast" to talk specifically about the Mid-American Conference. Both podcasts are released weekly on the College Football Student Media Poll website and linked on the organization's Twitter and Instagram accounts.
The poll also produces online video and social media content about college football news. Although most projects are still in the developmental phases, Felts said he is excited to see how the poll could evolve into an entire media conglomerate.
"It's cool to see everybody coming together working as one, and it's something I don't think has really happened before," Felts said.
Beyond the weekly rankings, a larger community exists for all the students involved with the College Football Student Media Poll.
The voters, some located as far as the University of Hawaii, connect weekly with one another to talk about the poll, college football and life as student journalists. Felts said some students participating in the poll plan to travel to opposing schools and meet up with other students during college football weekends.
"I remember when we were first starting out and recruiting, just getting 25-30 members was something that we thought was super awesome, but as we continue to grow and grow, it's just so amazing how involved people are across the country," said University of Illinois student Jackson Janes, vice president of the College Football Student Media Poll.
Felts said he could not have anticipated the fast-paced growth and willingness of everyone involved to make the best poll possible.
"These are lifelong connections in my mind, and I plan on doing this for the next three years," Felts said.