Media School sends student to Puerto Rico for hurricane relief project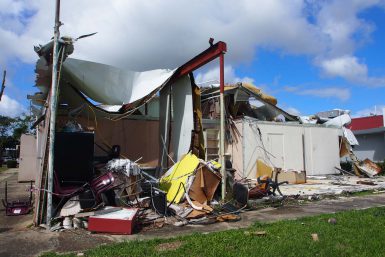 When Hurricane Maria hit Puerto Rico in the fall, it caused severe damage to two University of Puerto Rico campuses, Rìo Piedras and Humacao. Maria hit Humacao especially hard, with the eye traveling right through the campus. The hurricane left an estimated $40 million of damage to the research universities' libraries.
Many relief organizations had come and gone by the time IU senior Korbin Clark arrived on the island. Clark, who studies marketing in the Kelley School of Business and documentary filmmaking in The Media School, traveled to San Juan and Humacao from Feb. 4-8 to plan and gather content for the creation of a website and documentary to help the campuses rebuild. His project is part of a partnership project between The Media School and Bloomington's Pueblo a Pueblo, an organization that provides programs in health, education and food security in rural communities in Latin America.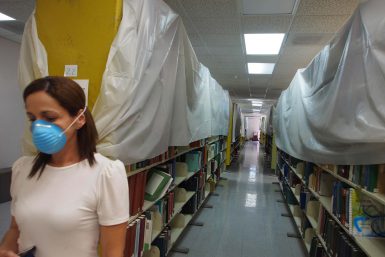 "The first goal of the project is to make people aware that this is still going on and make people a little bit aware and upset, because it's pretty shocking," Clark said.
Clark's website will raise money to recover the books destroyed by water from the hurricane. Clark also is making a video to showcase the UPR students' talent and tenacity in the face of Hurricane Maria. When Clark was there, he toured the campuses while interviewing students about their work and experiences being a student post-Hurricane Maria.
"Every single student I talked to was focused on their studies, even though at Humacao, shortly after the hurricane hit, they went back to taking classes before the lights were turned back on," Clark said. "That showed me how truly dedicated they were. They just wanted to keep going."
After the hurricane, Media School Dean James Shanahan asked Katie Beck, associate director of student services for experiential education, to look for opportunities for The Media School to help. Beck worked with University of Puerto Rico alumna and IU history professor Arlene Diaz to partner with Pueblo a Pueblo on sending Clark to the island. The Media School funded a portion of Clark's trip.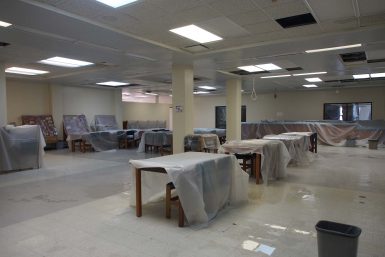 "It's not a matter of only collecting money, it's also a way of humanizing this experience and telling them we care, and you cannot buy this emotion," Diaz said. "For them it has meant so much that Indiana University is lending a hand."
Diaz said the project focuses on replacing the books the universities' libraries need to continue teaching students and remain among the top research campuses in Puerto Rico.
Clark said he was proud to be a part of a university like IU that is socially and internationally conscious enough to give the hurricane victims what they need to restore their homes – a voice and an education – and not simply to send a check and someone for a photo opportunity.
"I hope the project shows how talented and involved these students are and their work, because it's really powerful and really well done," Clark said.
Beck said The Media School is training its students to showcase exactly that.
"Journalists and media-makers are often some of the first responders," she said. "And they shape how the rest of the world views these issues and what they even know about them."