Media School, Jindal School of Journalism and Communication partner for media and democracy seminar
Scholars from Indiana to India shared research spanning disciplines during the first collaboration between The Media School and OP Jindal Global University's Jindal School of Journalism and Communication Thursday. 
More than 30 participants attended the "Media and Democracy Seminar," an opportunity for faculty and graduate students from both universities to present their research on the role of media in democratic governance globally. The seminar was supported by the IU India Gateway.
"We're proud today to associate with journalism educators at Jindal School of Journalism and Communication who share our commitment to honest and reliable journalism and ethical journalism education," said Media School associate professor Jim Kelly, who also is director of journalism. "We know that our journalists live in a multicultural world of interconnectedness."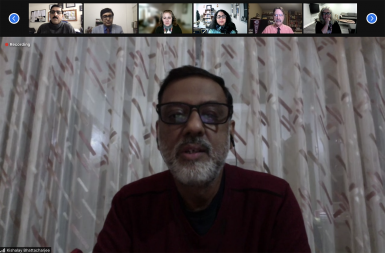 The seminar included four panels of three presentations each, as well as Q&A sections. 
The first panel, chaired by Media School associate dean Radhika Parameswaran, consisted of research on online dating, digital activism and media economics during the pandemic. Presentations included discussions of gender, migration and policy. 
"The digital has given new kinds of discourse and new kinds of engagement to many Indians who can access the digital space. There's more expressions of caste, class, visual identity, religion," said economist Ruchira Sen, who presented "Voices from the margin: Mapping migrant discourses and digital activism." "The digital brings a change in the political context."
The second panel included explorations of political parody, social media and local news impact. 
Media School assistant professor Jason Peifer, who presented "A cross-national study of perceived news media importance and social media importance for fulfilling citizens' needs," discussed the effects of individuals' perception of news media. 
At the beginning of his presentation, Peifer said he was looking forward to initiating more international collaboration, potentially with some of the seminar's attendees.
"As I think about next steps, I'm interested in expanding my work on this concept, this research route, beyond the scope of the United States," he said. "I'm really eager to tackle a cross-national, comparative sort of approach to some of these questions." 
The third panel examined online activism and the backlash against digital journalists. 
Researchers Ashima Pargal, Suruchi Mazumdar and Sen reflected on the digital sphere's relationship with protest mobilization, examining the use of hashtags in popular protest against farm laws in India. Co-panelist Uttaran Das Gupta followed this presentation with a look into the intersection of digital journalism and democracy by focusing on exiled bloggers. 
The final panel discussed misinformation, climate change and journalistic labor. 
"One way to think about global journalism is thinking about globalized consciousness in journalism where local journalists connect what's happening in their community to global flows of power and influence, so that could be market forces, migration, war, all sorts of different things," Media School assistant professor Suzannah Evans Comfort said. "Global journalism can be a state of mind." 
Climate change, she said, is a great example of this global journalism. 
Comfort and her fellow panelists, Media School assistant professor Mike Gruszczynski and Media School graduate student Shobha S V, reflected on the various systems in media ecology including technology and labor.
Eleven researchers spoke during the six-hour-long seminar. Presentations included:
Benson Rajan, JSJC, JGU, "Online dating & Indian women: A study on Bumble's safety design"

Suruchi Mazumdar & Ruchira Sen, JSJC, JGU, "Voices from the margin: Mapping migrant discourses and digital activism"

Sukumar Muralidharan, JSJC, JGU, "Pandemic as a transformative moment"

Elaine Monaghan

, The Media School, "Indiana University's Observatory on Social Media: A telescope into our media ecosystem"

Jason Peifer, The Media School, "A cross-national study of perceived news media importance and social media importance for fulfilling citizens' needs"

Arijit Paladhi

, The Media School (IUB), "Public perceptions of local journalism as a public good"

Ashima Pargal, Suruchi Mazumdar & Ruchira Sen, JSJC, JGU "'Hashtag for today': Activism and digital counter publics in protests against farm laws in India"

Uttaran Das Gupta, JSJC, JGU, "'No longer at ease': The murders of bloggers and 'hate spin' in Bangladesh"

Mike Gruszczynski, The Media School, "Determinants of (mis)information spread in online environments"

Suzannah Evans Comfort, The Media School, "Climate change in the news: When country context matters – and when it doesn't"

Shobha S V, The Media School, "Newswork, technology, and democracy: The precarity of journalistic labor in India