Media School honors 6 distinguished alumni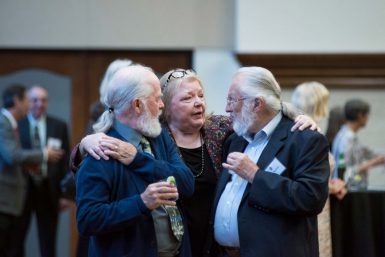 When Gary Donatelli, BA'74, visited IU's campus for the first time, he thought to himself, "Oh God, please let me come here."
Donatelli attended IU on a football and wrestling scholarship, eventually earning a degree in radio and television. He went on win four Emmys for his work directing the TV show One Life to Live.
"IU has been there for me," Donatelli said. "The school has always taken care of me."
Donatelli was one of six alumni honored Friday night at The Media School's Distinguished Alumni Awards ceremony. The recipients excelled in the fields of photojournalism, sports journalism, investigative journalism, television production and data research.
The alumni honored were Donatelli; Harold de Bock, PhD'74, for his work in audience and customer loyalty research; Sandra Eisert, BA'73, for her work as a picture editor and designer; Kathleen Johnston, BA'82, for her work in investigative reporting; Bryan Moss, BA'66, for his work in photojournalism; and Diane Shah, BA'67, for her work as a sportswriter.
As they accepted their awards, the recipients looked back on their time at IU and gave advice to media professionals getting into the field now.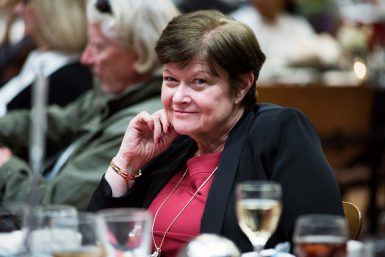 De Bock earned a doctorate in mass communications from IU. His worked in audience and customer loyalty research influenced media industries and platforms across the world.
When accepting his award, de Bock said investigative journalism should be a top priority for collegiate journalism curricula. Journalists should not fear being banned from a White House press briefing or being thrown in jail in another country, he said.
"I trust in The Media School that you'll continue to teach students these standards," he said.
In her speech, Johnston also urged the audience to remember journalistic standards. She said too many journalists recently have been taking sides. It's a trend that needs to be reversed, she added. It's important to trust readers or viewers.
"Be respectful," Johnston said. "Keep your cool. Present the facts."
Eisert accepted her award and joked that as a student, all she wanted was a 10:30 a.m. class to fit into her schedule. She ended up in a journalism class, which became the start to a lifelong career in photo editing.
When she took a job at the Courier-Journal and Louisville Times, she became the first woman newspaper picture editor.
"I was able to be at the school at a really, really magical time," Eisert said.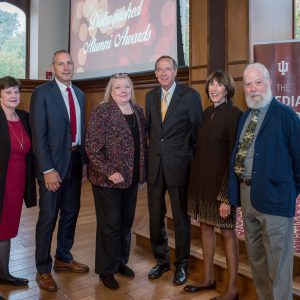 Eisert said she made a list of all things she wanted to do in her career. Almost none of them happened, but she was grateful.
"Things have been much more interesting," Eisert said.
Like Eisert, Shah broke barriers as a journalist, becoming one of the first female reporters at Dow Jones and the first woman to enter a locker room.
Throughout her career as a female journalist, Shah was constantly told that she couldn't do something. But never at IU.
She said one of the keys to success in journalism is having someone who believes in you. She said she got that from the journalism department at IU.
"Not once did anybody tell me I can't," Shah said.
As he closed the awards, JR Ross, Media School Alumni Association past president, said at times, especially recently, it can be difficult to go to work every morning as a journalist.
"These people have fought the good fight," Ross said.
More: