Media School-funded news outlet fills environmental reporting void
When reflecting on her favorite stories she has written in the past nine months for the Indiana Environmental Reporter – an initiative launched by The Media School and the Environmental Resilience Institute in April – reporter Beth Edwards recalls three influential women she has interviewed.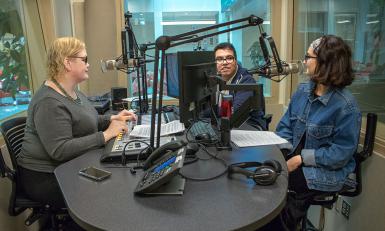 The first is Cathi Murray, an activist and mother of two daughters in the Town of Pines, Indiana, whose water was contaminated with coal ash. With her husband Alan, she has been fighting for clean water for the small town with a population of about 700 people.
The second is Linda Wang, a Purdue scientist who is developing a method to turn plastic into petroleum to hopefully stop plastics from destroying the ecosystem. Edwards previously interviewed her about a process she developed to turn coal ash into metals that can be used for the production of technology such as medical scanners, missile controls and cell phones.
The third is Mary Hess, a retired postal worker in Dale, Indiana, fighting against a coal-to-diesel plant. This story has not yet been published on the IER website, which launched in August.
"You get to speak to and meet so many people," Edwards said. "And you get to learn."
IER is an online publication — located in the sub-basement of Franklin Hall — dedicated to reporting on environmental issues affecting Indiana. Its stories are available to media outlets throughout the state for free.
These stories include pieces on the volunteer group Friends of Lake Monroe, invasive species, Environmental Protection Agency changes under the Trump administration, urban chicken coops and — the site's biggest focus —  climate change.
IER was founded through ERI as part of Prepared for Environmental Change, one of IU's three Grand Challenges. Grand Challenges are multidisciplinary teams of IU faculty, staff and students seeking solutions to major problems.
Supported by ERI and The Media School, IER is an editorially independent, six-person reporting team. Edwards and reporter Enrique Saenz are the organization's two full-time staff members, supported by four part-timers who handle graphic design, social media, podcast production, news briefs and distribution.
"The IER's mission is therefore very simple: To do quality reporting on environmental issues," said Media School dean James Shanahan.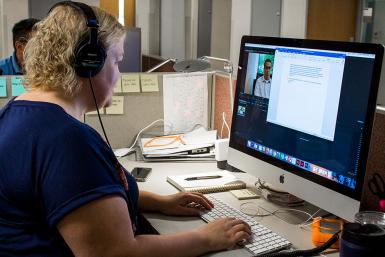 Before IER, there were only two environmental reporters in Indiana, both at the Indianapolis Star, said Andrea Webster, ERI implementation manager.
ERI also funded the addition of Indiana Public Media statewide environment reporter Rebecca Thiele, thereby increasing the number of environmental reporters from two to five.
"The purpose is to get people talking about environmental issues in Indiana," Webster said. "We want Hoosiers to engage with these issues, and news outlets are one avenue to making that happen."
Edwards and Saenz find their stories by reading news sources and keeping up on the latest research developments from IU. While environmental issues are universal, every story published in IER has a Hoosier angle.
On top of the publication itself, IER also recently launched a podcast called On Air with IER, where the reporters discuss their stories.
Because the outlet is relatively new, the reporters aren't sure of the size of its readership, but Saenz said he has noticed an increase in article clicks and social media presence since the launch. He said he thinks readership is "growing every day."
Above everything else, Edwards and Saenz said they want to create a platform where they can accurately report facts and stories that motivate people – whether they don't believe in climate change or are uninterested in the environment – to take action on environmental issues.
"When people think of environmental issues, most of the time, it seems like some foreign future where it doesn't seem like a problem now," Saenz said. "But what we hope people get from what we do is that environmental issues aren't just something out of grasp, some conceptual thing. It affects everything about the way people live."
More: