Media School faculty, students, staff help produce new research TV show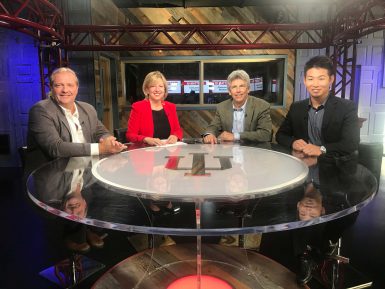 Sherry Knighton-Schwandt remembers watching Pro and Con with then-IU President Myles Brand in the late 1990s. The show brought together faculty members and outside guests to discuss current topics.
As executive director for research and development at the Office of the Vice Provost for Research, Knighton-Schwandt knew she wanted to do something similar. She decided to partner with The Media School and WTIU to create IU Matters, a pilot series that will highlight the work of IU researchers.
"We thought, 'How can we make topics approachable to the public? How can we show how they impact society?'" Knighton-Schwandt said.
The series will be filmed in The Media School's Beckley Studio. The first episode will air at 9:30 p.m. Thursday, 6 p.m. Saturday and 3:30 p.m. Sunday on 30.2 TIU World.
"I'm hoping those who watch can learn of the advances in specific fields of research at IU," said Bruce Kopp, former WTHR news anchor and the show's producer. "The research is leading to solutions that will improve the lives of those in Indiana and beyond."
Anne Ryder, Media School senior lecturer and former WTHR news anchor, will host the show and will work with WTIU and Media School students, faculty and staff to tape each show throughout the year. The first was filmed Sept. 25.
Four parts will be filmed and air this academic year, but Knighton-Schwandt said she hopes it will continue after this year. She'd like to get funding to have a full 13-episode series that will lead up to IU's bicentennial in 2020.
The format of the show will be a panel of four faculty from any IU campus.
"Our faculty just do great work," Knighton-Schwandt said. "Having a conversation like this is very important. The show will be very informal, but at times we'll have a debate."
The first show will focus on concussion research. Tom McAllister, School of Medicine professor; Nicholas Port, School of Optometry associate professor; and Keisuke Kawata, School of Public Health assistant professor, joined the show as the first guest researchers.
Knighton-Schwandt said her team wants the show to focus on timely issues. Since fall is football season, concussion research seemed like a perfect first episode.
Kopp said the producers assembled a panel that has been working for years on diagnosing concussions among athletes. The guests are working to develop innovative techniques to better detect possible concussions.
The successful outcomes of their work could lead to safer conditions for athletes, Kopp said.
"I hope they will be able to share their knowledge on the subject and help the countless number of athletes and parents who have serious concerns about the effects of concussion and show how there is comprehensive research underway to better deal with the risks and consequences of concussion," Kopp said.
Kopp said when Ryder asked him to help, he was eager to get involved.
"It's an opportunity to work with some of the outstanding leaders in the field of research at Indiana University and transfer some of the skills I've learned over the years to spotlight their innovative accomplishments," Kopp said.
Jay Kincaid, Media School director of facilities and technology, manages facilities for the show. He will also direct the show.
"Any time I can sit in and have the opportunity to work with talented people is really fun," Kincaid said.
Kincaid said people from all across The Media School will be involved, from faculty to students. Ryder's students will work on the visuals, the packages and shooting B-roll.
Kincaid said the opportunity to get involved in a production with a real outlet and produce a show that will get published on a real channel is good experience for students and improves their resumes.
"It gives students that extra little something," Kincaid said. "It gives students a little more notoriety."
When the show airs, Knighton-Schwandt said OVPR will promote the show on its social media sites in order to broaden the audience that will see it.
"Our hope is just to start a healthy dialogue about the work we do," Knighton-Schwandt said. "We want to be available to the public if they want to learn more."
More: