'A single hit might destroy everything': Menzelevskyi reflects on the critical role of film in Ukrainian culture, diplomacy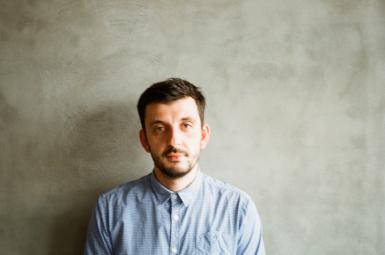 Media School doctoral student Stanislav Menzelevskyi sees more in film than scripts. 
Film can be a mode of cultural diplomacy, he said, and can capture the intricacies of international relationships — such as the relationship between Russia and his home country, Ukraine.
"Film is very interesting. Avant-garde artists believed that film was kind of a universal language, and for me it is more accessible," Menzelevskyi said. "It is a democratic medium."
He said cinema can reach more audiences than other scholarship modes, such as academic texts. 
Since the 1920s, filmmakers have seen the form as capable of encapsulating universal human emotion and crossing linguistic and cultural borders, he said. 
"Even from the practical point of view, films are easy to make internationally accessible — digital copies, subtitles — and reach a much broader audience than other mediums allow,"  Menzelevskyi said. "That's why screening Ukrainian films for educational and fundraising needs became a keystone of Ukrainian diplomatic efforts after the war started." 
Before continuing his education at IU, Menzelevskyi worked on the research and programming team at the Oleksandr Dovzhenko National Center, a state film archive in Ukraine. The archive is currently still intact, though some materials have been relocated because of the war, he said.
The center was established to preserve, restore and promote Ukrainian film heritage, he said. It was built to enrich the Ukrainian film landscape, which has faced challenges of its own within the larger scope of Soviet history. 
Ukraine's largest film archive, the center holds more than 7,000 Ukrainian and foreign films ranging from the early 1900s to contemporary products. The archive includes nonfiction and fiction films with a focus on fiction work, Menzelevskyi said. 
The center includes film storage, a film copy laboratory, the Museum of Cinema, film archives, a media library and its own performance hall.
"A single hit might destroy everything we have there," Menzelevskyi said. " In this scenario we won't have any film heritage preserved, there will be no films to screen." 
During his time at the center, Menzelevskyi worked on publishing projects including books and film research.
International film work is important because it is a collective medium and is a vehicle for cultural diplomacy, communication and scholarship, he said. It requires collaboration through all stages, from production to interpretation. 
"In cultural, ideological terms, especially in the Ukrainian case, film is very much about history and culture," he said. "For example, the Ukrainian film industry can teach us about (the) Russian-Ukrainian relationship more than anything else."
That relationship — evolving as the war continues — is being documented in real-time. 
The war is stimulating film production, Menzelevskyi said, driving cinematographers to document the conflict across genres. 
"These documentation efforts will be accompanied by various fiction genres, which will try to work with this traumatic experience of the war, so I expect more collaborations and coproductions as well," Menzelevskyi said.
He hopes that after the war Ukrainian archival films still being kept in the Russian film archive will be repatriated and that the war will influence film education, with an influx of opportunities offered to Ukrainian cinematographers abroad, he said. 
"I also hope that there will be more restoration efforts aiming at restoring the Ukrainian film archive as well as its full digitalization and online availability," he said.
Film archival institutions preserve not only actual, tangible film, Menzelevskyi said — but also memory and cultural heritage.