Media School co-sponsors sustainability and food media seminar with Liz Fakazis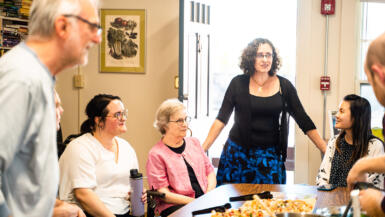 Liz Fakazis, PhD'03, presented a seminar about the importance of study abroad, food media representations and sustainability on April 13, in collaboration with the Media School and IU Food Institute.
"Teaching Sustainability Through Culinary Travel and Study Abroad" emphasized the importance of responsibly teaching food, media, tourism, and sustainability. Fakazis holds a Ph.D. in Journalism from IU's School of Journalism — which has since changed its name and expanded to house other degree programs as the IU Media School.  
Fakazis currently teaches Media Studies at the University of Wisconsin-Stevens Point, with a special focus on food journalism and food media. In 2007, she started "The Food & Wines of the World," — a study abroad program in which students learn about sustainability in food and tourism through site visits, cooking classes, tastings, and more while traveling throughout Greece.  
In her seminar, she discussed the students' experience when visiting Arachnes, a village on the Greek island of Crete, to highlight why international travel is so important in developing food media narratives. Fakazis said her decision to spend a lot of time in Arachnes is  because the community's sustainable and cultural approach to food is immensely educational.  
"The entire island of Crete is considered one of the world's biodiversity hotspots," she said. "It's home to a rich variety of plants."  
In wanting to give the students a holistic representation of Greek food and culture, she collaborates with Greek-American Nikki Rose — the founder of Crete's Culinary Sanctuaries Educational Network.  
Rose's program has been a great source of education in sharing information about the Greek food system and culture, Fakazis said.
She discussed how a local resource such as the culinary sanctuary is extremely important in combating the harmful effects of mass tourism on Greece's food systems and economy. Fakazis said mass tourism excursions often replace local food trades, gobble up natural resources and generate waste.  
"They reduce a complex culture to a very stereotypical commodity," she said.  
Fakazis said Rose made the village of Arachnes a place that could combat the harmful effects of mass tourism by supporting the environment and opening jobs for local people.  
When the students are in Arachnes, they collaborate with Rose to learn about not only the food and wines of Greece, but also food health. 
Fakazis said a conversation surrounding food health is important because of how Mediterranean food is often inaccurately represented in society.  
"I find the Mediterranean diet represented in food media familiar, but not accurate," she said. 
"There are just these tiny tendrils connecting the Mediterranean diet to its roots." 
When taking part in Greek culture, Fakazis said the students studying abroad begin to learn what this 'Mediterranean diet' really means. She added that this exposure to culture requires us to examine the values and privileges that underpin food complexities. 
In considering students studying food journalism today, Fakazis said they must start by looking at stories that are already out there. 
"Critique existing narratives based on what we know about food and politics," she said. "I really encourage students to identify the problems. Talk to local food producers and find out if there is a disconnect between the media representations and lived experience."  
Fakazis also hosted a cooking class later in the afternoon where a select group explored the diversity of Greek cooking. The group enjoyed a number of dishes, such as kolokithokeftedes (zucchini fritters) with tzatziki and prassotigania (pan-cooked pork and leeks).