Media organizations welcome new students at activities fair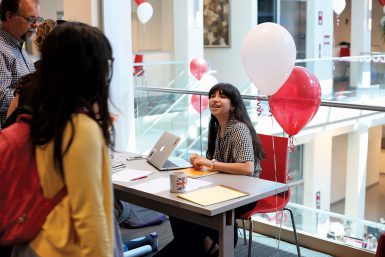 Twenty-six student media organizations welcomed new Media School students at the annual Media School Activities Fair Thursday, August 24. Leaders of student media groups including American Student Radio, Public Relations Student Student Society of America and Hoosier Games set up tables to introduce themselves to students.
"The purpose of the fair is to get students, particularly freshmen, familiar with the groups within the school," said Assistant Building Manager Darla Raines, who was checking the groups in that afternoon. The more student media organizations the new students are exposed to, the more likely they will feel welcomed to get involved, she said.
Kate Stewart is a freshman in The Media School considering studying public relations. She had been to multiple meetings about Media School opportunities, all of which mentioned the activities fair.
"Everyone tells you to get involved in college, but with who, where and how?" Stewart said. "The groups here were very welcoming and made getting involved seem less daunting."
Junior public relations student Morgan Hunt was at the fair representing WIUX Pure Student Radio as its Web content director. She encouraged freshmen like Stewart to explore everything and talk to everyone early on. "Getting involved is important because it helps you get experience in your field," Hunt said. "You can see what works for you and network with people who will help you learn that."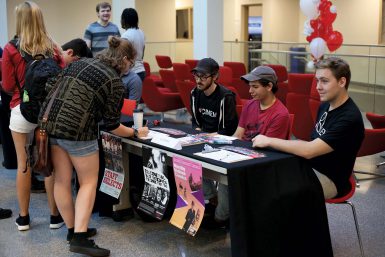 When Hunt came to IU, she wanted to get involved in planning the Culture Shock music festival. She went to a WIUX callout meeting to learn more. After getting involved with the student radio station, Hunt thought it would be fun if she and her friend started a radio show. McClarney and Morgan's Midnight Madness was born, and Hunt was surprised by how much she fell in love with radio.
Throughout her time at WIUX, she has also held positions in the blog and special events committees and has worked on their social media accounts.
"It helped me go behind the scenes and see every facet of building an event, and I was able to work on our branding," Hunt said.
The activities fair gave new Media School students the chance to dip their toes into all the student media opportunities IU has to offer and see the organizations that help make The Media School feel more like a family.
"The school seems as close knit as it can be given the size, even though I've only been here for a week," said Stewart.
More: