Media Career Day connects students to industry professionals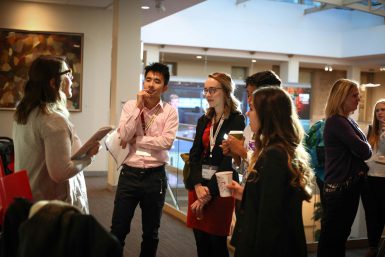 Media Career Day featured more than 35 alumni presenting their career advice in a series of 14 panel discussions, networking sessions and one-on-one chats with students.
Associate Director of Employer Relations Sarah Cady organized the event, which took place Friday in Franklin Hall. Find the itinerary and panelist bios online, then read reports of selected panel discussions below.
Digital Journalism Master Class
By Zoe Spilker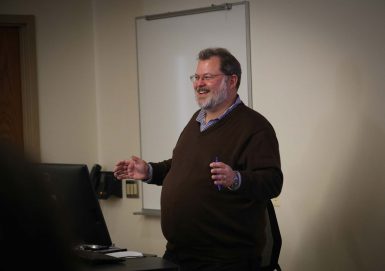 Ninety-three percent of adults get their news online now, senior producer at CNN Digital Thom Patterson, BA'87, told Media School students at Friday's Digital Journalism Master Class.
Learning how to transfer journalism skills to digital platforms is increasingly important, he said.
"We really are living in the best time in history to be a journalist, and I probably don't need to tell you this or even why," Patterson said. "But look, we get more reporting, researching and newsgathering done in less time because of the internet."
Gaming Roundtable Discussion
By Laurel Demkovich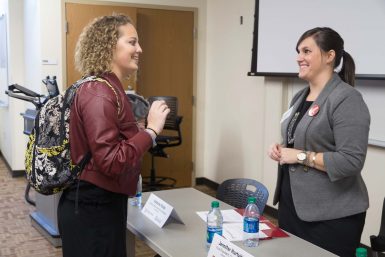 Mary Kenney, BAJ'13, associate writer for Telltale Games, didn't go to school to work in game design. She majored in journalism and worked as a print journalist for three years after graduation.
But eventually, she realized she wanted to pursue a career in game design. She earned her master's at New York University's Game Center and has worked as a game writer ever since.
"I always wanted to write, but I never knew video games (were) something I could write," Kenney said. "I slowly began understanding I could write and do something I love."
Production Careers in TV
By Audrey Deiser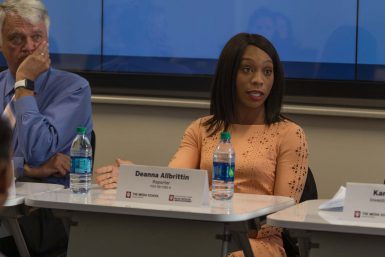 The panel started at 10 am, and students were lining the back wall by five after. Sarah Maneely, BAJ'09, Kyle Benham, BA'09, and Marla Hudnall, BA'00, comprised the Production Careers in TV panel.
Hudnall graduated with a degree in telecommunications. She works as second associate director, most recently on GLOW, a Netflix show. She advised students looking for careers in production to make themselves invaluable on set.
"I need you to pick up information quickly and have a constant list of prioritization," she said.
Marketing in Entertainment with Universal Pictures
By Austin Faulds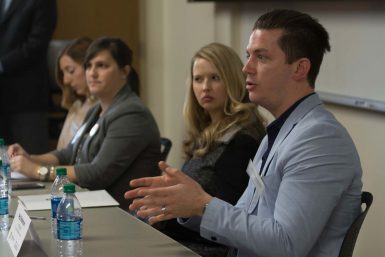 Universal Pictures executives and IU alumnae Tara Martino, BA'04, and Maya Lasry, BA'11, appeared in Franklin Hall to give advice to young media students, particularly those interested in advertising.
Martino is the vice president of publicity and integrated marketing for Universal. The latter, she explained, is a unique form of promotion for a particular product that may be distributed by the company. For example, while standard publicity may be a celebrity appearing on a popular talk show to talk about her upcoming project, integrated marketing would be that same celebrity appearing on an unrelated television program to promote the same project.
Audio and Video Production
By Ellen Glover
Students interested in audio and video production heard from some of the best in the industry at Friday's Audio and Video Production panel discussion.
The panel included Elise Jaffe, BA'99, the executive producer at Big Teeth Productions; Brian Hrastar, BA'96, managing director at Optimus; and Chad Stum, BA'09, managing director and founder of Original Six Media and assistant director of video at IU Communications.
The conversation centered around what students can do to stand out when they're looking for jobs, how much the business has changed in recent years and where it is likely to go.
More: