Media and Jacobs student wins Innovation Grant Competition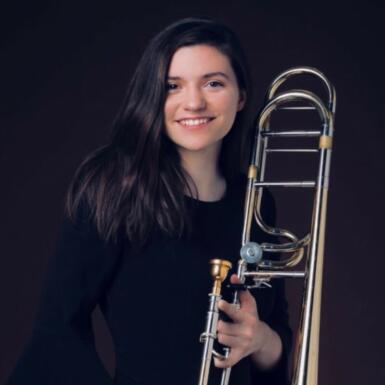 Media School student Louise Kern-Kensler won the 2023-24 Jacobs School of Music Innovation Grant Competition in support of her documentary film project "Breaking the Brass Ceiling." Winners were announced Nov. 6 by Jacobs' Office of Entrepreneurship and Career Development.
Kensler's documentary, currently in its research phase, will explore successful female brass musicians from diverse backgrounds and give voice to their stories, accomplishments, and challenges in the industry. As stated on the competition's page, "Breaking the Brass Ceiling" aims to "inspire, empower, and promote diversity and inclusion within the classical music community."
Kensler is a senior pursuing a dual degree in film at The Media School and trombone performance at the Jacobs School of Music. She was one of four winners of the Innovation Grant Competition who each received $2,000.
OECD offers the Innovation Grant Competition to support the creative projects of students and faculty in the fields of music and performance.