Martin commemorates 10 years of Black Camera at 50th-anniversary FESPACO
As Africa's largest film festival celebrated its 50th anniversary last month, The Media School's Black Camera: An International Film Journal celebrated 10 years of publication with an exhibition at the Burkina Faso event.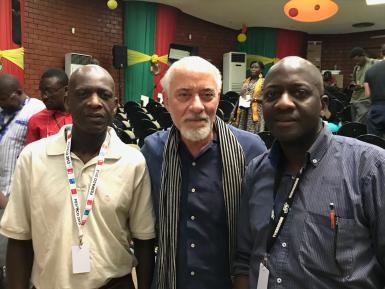 Professor Michael Martin, Black Camera editor-in-chief, attended the Panafrican Film and Television Festival of Ouagadougou, also known as FESPACO, as an invited speaker. He addressed and participated in the workshop, "Confronting Our Memory," in a a two-day symposium, "Confronting Our Memory and Shaping the Future of a Pan African Cinema in its Essence, Economy and Diversity."
In addition to its anniversary exhibition, Black Camera also co-sponsored with the Pan African Film Archive in London an installation of four films, and gave several talks to audiences with June Givanni, film curator and director of the Pan African Cinema Archive.
Martin interviewed Givanni during the symposium. The interview will appear in the fall 2019 issue of Black Camera.