Marjorie Blewett, pillar of The Media School community, dies at age 91
Marjorie "Marge" (Smith) Blewett, BA'48, died Friday at Bell Trace Health and Living Center in Bloomington. She was 91.
Her more than 70-year commitment to journalism and to IU students made her a pillar of The Media School community.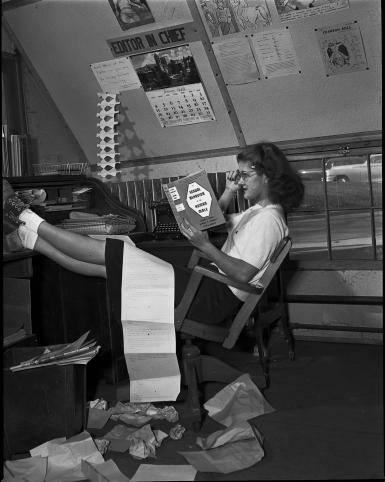 Blewett began her journalism career at Bloomington High School's student newspaper, and later wrote as a teen columnist for the former Washington Star when her family moved to the D.C. area. Upon enrollment at IU, she joined the Indiana Daily Student and would go on to serve as editor-in-chief her senior year. She also worked for The Daily Herald, now The Herald-Times, as an undergraduate.
After graduation, Blewett worked for newspapers in Bloomington and Lafayette. She returned to IU as a lecturer at the School of Journalism in 1965 before beginning a 20-year stint as the school's placement director.
Blewett's dedication to the success of the school's students was evident to her then-coworker Kathy Parker, former executive director of development and external relations at the School of Journalism.
"When an alum returned to campus for a visit, Marge remembered his or her name on sight – even if it was 10 or 15 years after they graduated," Parker said in a letter nominating Blewett for the IU Alumni Association's President's Award.
After seeing students struggle with unpaid internships, Blewett founded the Marjorie (Smith) Blewett Scholarship in 1998 to provide summer internship support for undergraduate journalism majors.
She supported the work of three deans: John Stempel, Dick Gray and Trevor Brown. She organized lectures and alumni events, wrote the school's alumni newsletter and oversaw the remodeling of Ernie Pyle Hall in the 1970s.
"Administrators, faculty, students and staff come and go. Marge Blewett was forever," Brown said. "She was there from quonset hut to Ernie Pyle Hall, from manual typewriter to computer, from analog to digital. She knew everyone and kept in touch with all of them. Relentlessly upbeat, irrepressibly chatty, she was the School of Journalism's alumni and placement program and its institutional memory. She was at the heart of the school's development and its students' entry into their careers, a tireless, loyal and irreplaceable resource."
Blewett started the School of Journalism's alumni magazine Newswire before founding the Journalism Alumni Association in the early 1970s. She contributed to Newswire with her column about IU journalism history, "Reminisce with Marge," until Newswire stopped publication in 2016.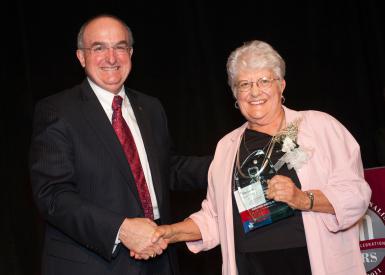 Blewett was widely recognized for her contributions to the university, the school and to journalism. She won The Media School's inaugural Distinguished Alumni Award in 2011 and received the IU Alumni Association's President's Award in 2013.
She is a member of the Indiana Journalism Hall of Fame and is a Sagamore of the Wabash, the highest honor bestowed by the governor on an Indiana resident.
She founded the Ernie Pyle Society in 1990. The social group brings together retired alumni in the Bloomington area who share a passion for IU and for journalism.
"Marge Blewett was one of the most meaningful and long-term contributors to the life of the School of Journalism," said Media School dean Jim Shanahan. "Many, many students owe to her the starts of their careers; they are now joining together their voices in appreciation and thanks for her remarkable contributions. I know that many alums always enjoyed the chance to check in with her, and she them. We will miss her a lot."
Her formal obituary is on the Allen Funeral Home website.
Media School community remembers Blewett
"Great friend, mentor to many and advocate for journalism. Rest easy, Marge." —Dennis Elliott, BA'69, MA'10, retired School of Journalism lecturer
"Marge was a great lady and a real historian for IU journalism. A great loss." —Ray E. Boomhower, BA'82
"When I was about to graduate from the School of Journalism, I stopped by to see Marge as I was still trying to land my first newspaper job. She knew I wanted to work near Indy and said that the Anderson Daily Bulletin was looking for a reporter. Right then, she dialed the number for the newsroom, got editor Marlin Evans on the phone, gave me a plug and handed me the phone. A few days later, I was there for an interview and got the job. Marge literally launched my career just like that. I've never forgotten it. She was a beautiful soul and a great advocate for her students." —George McLaren, BA'81
"The world is a happier place because Marge was in it." —George Hanlin, BA'93
"She was the soul of journalism's old school." —Bruce Smith, BA'70
"I'll always remember her indomitable personality." —Tim Street, BAJ'03, MPA'10
"I met Marge in the main office lounge of Ernie Pyle Hall in 1982 on a trip to talk about graduate school. She asked, 'Why would you want to leave a good newspaper job just to go back to college?' I'm still asking myself that question. She was a special part of the School of Journalism for a very long time. Her death marks the end of an era in a way that the death of faculty or the change in facility cannot. I will miss her." —Associate professor Jim Kelly, MA'88, PhD'90
"Marjorie — Thank you for my scholarship back in 2001 and believing in me. Rest in peace. Don't worry — we'll take it from here." —Kara Kenney, BAJ'01