Margolick recounts his efforts to tell two women's stories
Stephanie Doctrow | Feb. 21, 2012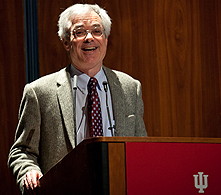 Writer David Margolick stumbled upon the story of Elizabeth and Hazel in 1999, when he visited Little Rock, Ark., to write a story for Vanity Fair.
That story didn't pan out, but while in town, he toured Central High School, site of the 1957 desegregation crisis when all-white schools were forced to admit African American students. Margolick saw the now-famous photograph of a white teen yelling angrily at the lone black teen in the crowd. They were 15 years old.
But next to it hung a photo of the same women 40 years later, congenial, smiling. He wondered how their relationship evolved from that day in 1957 to this.
The author explained his 12-year journey of uncovering that story Monday evening in a talk at Whittenberger Auditorium. The first of the school's spring Speaker Series guests, Margolick is author of Elizabeth and Hazel: Two Women of Little Rock. The book explores race relations in America through the lens of the iconic photograph, taken by the late Will Counts, who was an IU journalism professor for 32 years.
Margolick called his visit to Bloomington a homecoming because of this IU connection with his "labor of love." During his speech, he described both Counts' work and its connections to his own.
On that day in 1957, Counts was a young photographer for the Arkansas Democrat who was covering the court-ordered mandate that black students be allowed into the school. Dressed as the local he was, as opposed to the out-of-town reporters and photographers who had descended on the city, and armed with a smaller camera, Counts was able to get close to the crowd and capture the day on film.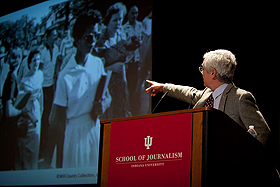 Margolick said once he began research for the story of the two women, his path led to Will Counts, whom he met and remembers as a kind and patient man. In 1997, the 40th anniversary of the desegregation of the Little Rock schools, Counts brought Elizabeth Eckford, the black teen, and Hazel Bryan, the white teen central in the photo, together for the photograph in front of their old high school. In the process, Counts brought the women together to reconcile.
Margolick said his goal in the book was to portray the women behind the photo as people, not just symbols of an intense moment in American history. Eckford's and Bryan's lives were affected by their places in the photo, and both women had a hard time dealing with it, he said. Eckford endured horrible treatment at Central High School and went into the Army after she graduated. She suffered from depression and attempted suicide a few times, and had children out of wedlock.
After Counts' photo made Bryan infamous, she switched schools, and eventually dropped out to get married and have children. Margolick said she realized at 20 she needed to be a role model for her children and called Eckford to apologize. She spent her life trying to make up for her actions, but she could never escape from the legacy of the haunting photograph, he said.
"It's true that no matter what she does, it's the power of the picture," Margolick said. "Her obituary will be published in The New York Times because of it, and it will have that photo."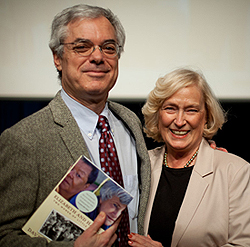 The women became friends after they came together for Counts' photo in 1997. Their shared experiences as American icons gave them a unique understanding of each other, Margolick said. But the friendship soon fell apart, and the women hadn't been in touch for years when he started writing his book.
It took Margolick 12 years to finish the book because it took time to build enough trust from the women, and he realized the sensitivity of sharing their stories. He worried about affecting their lives with his story and didn't want to force the women together after 10 years of silence.
"I didn't want this book to be The Help," he said, referring to the recent feel-good book and movie about black and white women bonding in the 1960s. "If they aren't talking, I don't want to stage an Oprah-like reunion."
As he finished the book, Margolick's photographer argued that for history's sake, he needed to capture a photo of the women together. Eckford agreed but Bryan wouldn't, and told Margolick his would be her last interview. But Eckford later wrote Bryan an apology letter.
"Their story might not be over yet," Margolick said. "Maybe someday they'll come together again."
Margolick spent the day in Bloomington meeting with journalism students and faculty, and he signed copies of Elizabeth and Hazel: Two Women of Little Rock, after his speech. A contributing editor at Vanity Fair, Margolick also is author of several other books and is a former reporter at The New York Times.
Jasmine Collins, programming assistant at the Office of the Vice President for Diversity, Equity and Multicultural Affairs, had asked Margolick a question about a memoir written by another of the "Little Rock Nine," as the black students who eventually did attend the high school are called.
"I thought his lecture was great," Collins said after the talk. "It was great to hear the point of view of a journalist who tracked these people down. It was remarkable that he put that together."
Freshman Jordan Canary attended Margolick's speech with the School of Journalism Media Scholars. She remembered seeing Counts' photograph and said she appreciated discovering the context behind the picture.
David Snodgress, a photographer for the Herald-Times, studied with Will Counts and attended the event to hear about Margolick's work.
"I want to read the book," Snodgress said. "From what he said tonight, it's all about the people. It's more than just an event. That's the kind of thing Will taught in his photojournalism classes. It's always about people."
The School of Journalism Speaker Series brings top media professionals to the area for a series of talks that are free and open to the public. The next speaker is Katharine Weymouth, publisher of The Washington Post, who will talk at 6:30 p.m. Feb. 28 in the Ernie Pyle Hall auditorium.