Logan shares passion, sacrifices of war reporting
By Jessica Birthisel | Oct. 13, 2010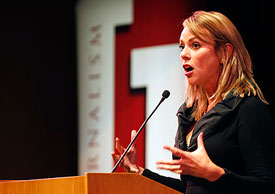 Just seconds after CBS News chief foreign correspondent Lara Logan stepped behind the podium at the Buskirk-Chumley Theater Tuesday, she rolled footage of herself in a context audiences more regularly associate with her: the middle of a war zone.
Her opening clip, a 60 Minutes piece from September titled "A Relentless Enemy," featured Capt. John Hintz, U.S. soldiers from the 101st Airborne Division, Logan and her crew patrolling the border between Pakistan and Afghanistan, a place Logan described in the clip as a "450-mile stretch of the most dangerous frontier in the world."
That danger presented itself in Logan's footage in the form of flying rockets and a full-fledged AK-47 and rocket-propelled grenade attack by the Taliban during a mission to a local village. The opening footage, which showed Logan crouching for cover in an armored vehicle as the soldiers killed 15 enemy fighters, symbolized a larger point Logan drove home during her 60-minute talk: gaining context for the stories she reports in the region are well worth the risks.
"The reason I want to be there, on the ground… is because it gives you an understanding that you could never otherwise have," said Logan, the second of the fall School of Journalism Speaker Series' guests.
After living in Iraq and Afghanistan for nine years, she recently settled down in Washington, D.C., where Logan said after listening to debates in the nation's capital, she wonders if the people there have a "real understanding" of the countries about which they debate.
Logan does have that understanding, she said, because she lived among the people for nearly a decade. This enables her to better understand the issues they face, the environment and the situation. Not only does this lead to good stories, said Logan, but it allows her to better evaluate source information due to her "in-built context" or history of the situation.
"Some of the most important education you get comes from the people themselves," she said, and that is something that best happens in person.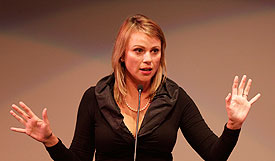 One of her stock questions in a new region is asking what one thing is most important to know about its people. When she talked with Iraqis before Saddam Hussein's removal, she said they constantly told her national pride was most important. This knowledge shaped her coverage of the country after Hussein was removed.
People often ask if she is discriminated against as a woman in Islamic countries, but she said she's found it harder to be taken seriously by her Western peers, such as when she experienced backlash for reporting from war zones during her pregnancy. At five months pregnant, she took an hours-long trek and with soldiers through sewage canals equipped with improvised explosive devices.
Logan recounted other first-hand accounts of war, such as the time a captain opened the door of an attacked Humvee and his soldier's head rolled into his arms. She talked about her experiences with the people, describing life inside an Afghan orphanage, where the starving children are "the lucky ones."
Logan said these experiences compel her to keep reporting. The advice she left with the audience is the same as that which fueled her own career: if it's your passion, pursue it, no matter the risks.
"If it defines you, if that's in the blood that runs in your veins, then you don't really have a choice," said Logan.
Logan's own path to journalism started with passion, not a journalism degree. She grew up in the coastal town of Durban, South Africa, and experienced a childhood she described as privileged. Logan said she learned everything about the craft from other journalists.
An early job with a Reuters news agency taught her about more than reporting skills, she said. It was there she learned the unabridged history of South Africa, a history she said she wasn't exposed to as a white person. In her first weeks at the agency, she watched some of the 30,000 Reuters video tapes, tapes "that unraveled the history of South Africa I had no idea of."
She said being in that office, in that world of foreign media,
opened her eyes to a world she never knew existed. From then on, she says she was "compelled by a sense of responsibility" inspired by South Africa's fights for freedom.
Throughout her talk, she outlined some other areas of responsibility, both in terms of political action in the Middle East and civic engagement there.
First, she urged Western military forces to address Pakistan immediately.
"If you don't deal with Pakistan, you will never win in Afghanistan," said Logan, explaining as long as Pakistan is a sanctuary providing safe haven for the fight in Afghanistan, it doesn't matter how many schools or roads NATO forces build. She also expressed concern about a gap in people's knowledge about the situation in the Middle East.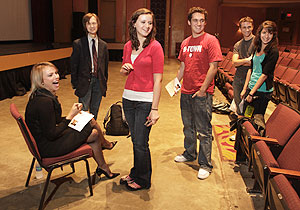 "There's such a huge gap between the reality of this war, of both wars, and the daily reality of life in the West," said Logan. "Most people go about their daily lives and they're not paying attention."
She said the West hasn't even begun to wake up to the threat its values are under right now. She described enemies such as Al Qaeda and the Taliban as "at 150 percent," a commitment level she believes is yet unreached by oppositional military forces.
"But I have to believe, that if the time comes, we will be able to deliver what's necessary for survival," said Logan. "I don't want my daughter growing up and wearing a berka. I don't want my daughter growing up without being able to drive." If there's one woman in the country who gets stoned to death for walking down the street with a man who is not her relative, said Logan, that's one too many.
Logan talked about the lighter side, sharing an anecdote about the time she convinced a soldier to share his peanut rations with her the very moment the enemy fired. She had to "hit the deck," causing her pants to split open. With one butt cheek exposed, she said she chewed the peanuts the entire time she crawled to safety, explaining "not even the Taliban can get between a pregnant woman and her food."
But motherhood has affected Logan's work, making it harder for her to follow the passion. She described the difficulty she faces every time she says goodbye to her family before leaving on a trip to dangerous region. She says the most insulting thing someone can say about her is she's just "an adrenaline junkie," because this masks the personal sacrifice required in her line of work.
That sacrifice is the reason she always carries a travel diary with her, and in it she writes letters for her children, entries about her belief in her work and what she wants them to know in case she doesn't return home one day.
Logan ended by reflecting on the future of news. She said she thinks even if newspapers and TV news will be extinct in the future, there will always be a demand for good journalism.
"I think that if you can still produce a product that people know and trust, that meets a certain standard, like we try very hard to do at 60 Minutes, then that's what will endure," said Logan, directing her advice to the journalism students in the theater.
Following the presentation, Logan took questions on a variety of topics, including telling day-to-day social and political stories in Iraq and Afghanistan, American war crimes in Iraq, the role of the explosive ordnance disposal team in the military and her views on the recent Rolling Stones magazine profile of Gen. Stanley McChrystal, among others.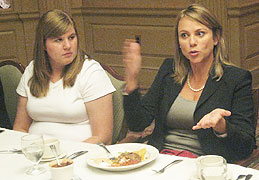 Afterward, Bloomington resident Roberta Taylor said she attended the talk because she's watched Logan's coverage throughout the war in Iraq and admired her bravery as well as her down-to-earth speaking style.
"I was very curious to see her, the woman," said Taylor, "and to understand a little better why she takes the chances she takes."
Taylor said after the talk she found Logan to be "very, very devoted to the truth."
Ernie Pyle Scholars and School of Journalism freshmen Katie Mettler and Kate Thacker said they felt inspired after the talk.
"I want to be her when I grow up," said Mettler, who said Logan knows what she believes in and has high standards for both herself and other journalists.
Thacker explained that in contrast to so much of doom and gloom talk about the economic fate of news media, Logan provided a fresh, encouraging perspective.
"I like how she said, 'If it is in your blood, it's not a choice," said Thacker. "She said we should keep going out and doing what we've always dreamed of doing."
The Speakers Series continues Nov. 4 in the IU Auditorium with Pulitzer Prize-winning author Thomas L. Friedman.