Ling reflects on reporting human tragedy
By Rosemary Pennington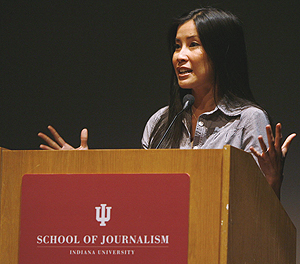 At the Buskirk-Chumley Theater Wednesday night, Lisa Ling had many in the capacity crowd on the verge of tears. The host of National Geographic Explorer spent much of her time talking about her experience reporting on some of the worst human tragedies.
But, before the tears, there was one thing she had to get out of the way right at the beginning of her talk.
"I like Whoopi," Ling said of the new co-host, Whoopi Goldberg of the TV show The View. Ling was a host of the talk show for three and a half years before moving to National Geographic. "I think she's funny, she's really smart. I think she's going to be just fine."
As the laughter died down, Ling quickly launched into a discussion of her life in broadcasting for her talk, the second of the School of Journalism's Fall Speaker Series.
"I dreamed of pursuing a career in TV," she said.
And pursue it she did. Ling, 34, entered the business when she was only 16, interning in a Sacramento newsroom as well as hosting a news program aimed at teens. But it was when she joined Channel 1, the news service piped into high school classrooms across the country, that Ling found her footing.
"It was Channel 1 that introduced me to a world I could never imagine," Ling said. And that world included Afghanistan. She first reported from that country in 1994, in between the end of a war with the U.S.S.R. and the rise of the Taliban. Ling calls it the story that had the most significant impact on her. She was 21 at the time.
"I was in a total state of awe at what I was seeing," Ling said of her arrival in Jalalabad, Afghanistan. "There were all these kids carrying weapons that were bigger than them. I'd never experienced the kind of lifelessness I saw in those boys' eyes."
It was when Ling went back to Afghanistan three years later, finding the nation crumbling after a civil war, that her career course was set in stone.
"It was at that point I decided this was the kind of work I wanted to do for my life," Ling said. "I wanted to immerse myself in these stories."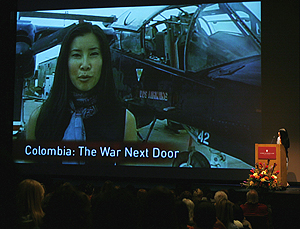 As host of National Geographic's flagship TV show, Explorer, and correspondent for Oprah Winfrey's show, Ling said she has been confronted by new truths time and time again. Whether reporting on "China's Lost Girls," rape in the Congo or life in a maximum-security prison, Ling said she's had to learn to take it all in."At the end of the day," she said, "the more we get to know and observe people, the more human we become."
Ling is a contrast to the two other Speaker Series' guests this fall. The Washington Post's Bob Woodward visited in September and USA Today editor Ken Paulson will speak Nov. 7.  Not only is Ling young to have the experience she has, she's also a woman and a minority.
But Ling said her demographic profile has never held back from telling the stories she thinks need to be told. She pointed out that it was "sad" that she had to turn to National Geographic and Oprah Winfrey to do the reporting she's most passionate about.
"Our news just doesn't cover these stories," Ling said. "It's pretty tragic when you think about it."
Ling spoke of tragedy and humanity to a packed house teeming with IU students. Many journalism professors required students to attend the talk and, in some cases, cover it as an assignment.
Sophomore Justine Wingard was one of those. She said she wants to pursue a career in broadcast news one day and found Ling's words inspiring.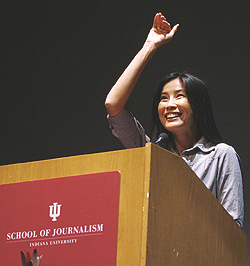 "I thought her courage was admirable,' Wingard said. "We're lucky to have her as a mediator between other countries and the U.S. It energizes me to go out and do more."
Sports communication senior Malia Foytich said hearing from speakers like Ling and Woodward gives students an insight into the business they're unlikely to find elsewhere.
"It's pretty amazing," Foytich said. "The speakers they've brought here, it's unexpected. Since I'm doing it on my own, I really want to hear what they have to say."
As she wrapped up her talk, Ling read from the transcript of a story she recently worked on in India. It was about the practice of burning wives if they fail to produce a sufficient dowry, a practice now illegal but still practiced. As Ling recounted the story of one woman set ablaze by her husband, and how her four-year-old daughter rushed to save her mother, there were many in the audience wiping tears from their eyes.
When she was through, Ling looked up, her own eyes glistening, smiled and said she would end with something Oprah always says.
"Now that you know," Ling said, "you can't pretend that you don't."