Lilly Foundation president, alumna shares career story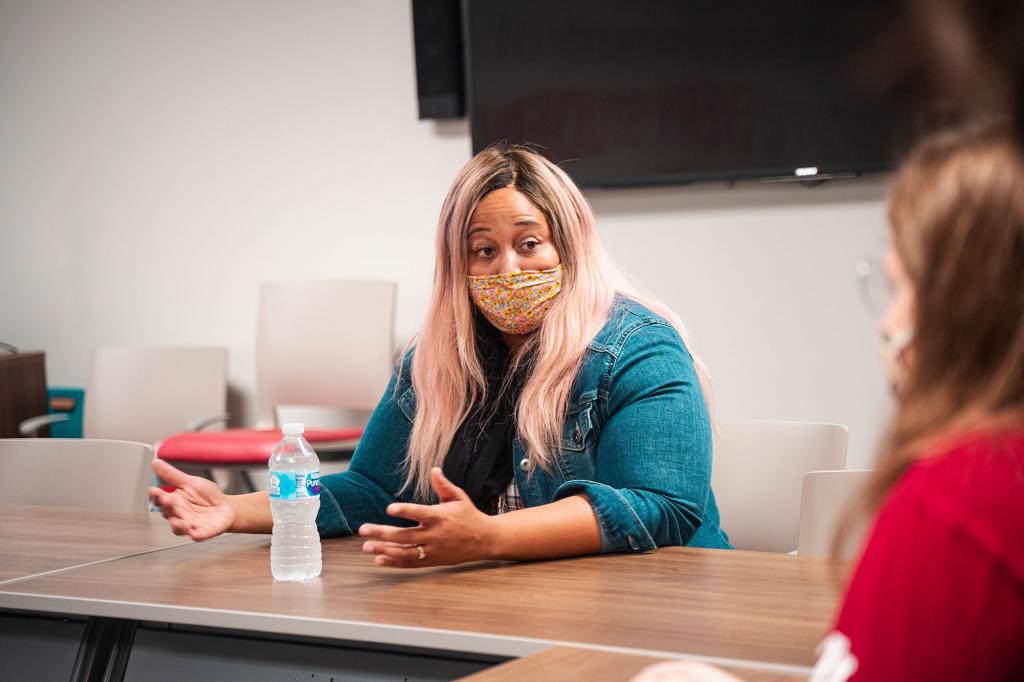 When she was in her early 20s, Tiffany R. Benjamin worked with clients sentenced to capital punishment.
Benjamin, BAJ'02, interned for Bryan Stevenson, the founder of the Equal Justice Initiative, while a student at Harvard Law School. She worked with a client who was 18 when he was imprisoned.
"Death is hanging over you all the time. At some point everyone who goes through that has a nervous breakdown, because you know you're going to die, and then they (delay your execution date). They tell you you're going to die, and then they stay it," Benjamin said. "I just remember watching this man pacing and crying, pacing and crying, and the real lawyer — because I was a baby lawyer — just sitting with him and soothing him and helping him face the fact that he was going to die."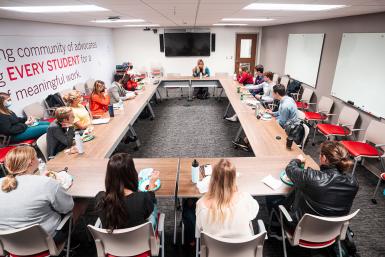 Encountering the realities of the legal system further encouraged Benjamin's drive toward enacting change, she said, a theme that has reverberated through each of her career moves.
The 2021 College of Arts and Sciences Outstanding Young Alumni Award winner discussed her career with IU students Friday afternoon.
Benjamin currently serves as the senior director of social impact and president of the Eli Lilly and Company Foundation. She spoke to about 20 students from 11:30 a.m. to 1 p.m. Friday in a Walter Center lunch-and-learn event in Ernie Pyle Hall.
"I'm always thinking about the pipeline. I'm constantly focused on who's coming after me," Benjamin said to potential future leaders. "Who can I pull up behind me and who can hopefully do my job better than me."
Benjamin graduated from IU in 2002 with degrees in journalism and political science. She attended Harvard Law School after graduating from IU.
While at Harvard, she interned under Stevenson, an attorney known for challenging bias in the justice system, particularly in defense of marginalized people.
"I loved doing this people-impactful work. But I was emotionally drained," she said.
The next summer, she turned that public defense passion into a more sustainable model for her, she said, by splitting her time between the public defender's office and a firm.
Benjamin then served as an attorney in the Washington, D.C., office of King and Spalding, working with white collar cases and government investigations.
"Then Obama got elected, and I was like 'I want to go be a part of this,'" she said. "I believed in him and his mission."
As senior investigative counsel for the Democratic staff of the U.S. House of Representatives Energy and Commerce Committee, she worked on investigations into national matters including the Deepwater Horizon oil spill, the Walmart-Mexico bribery allegations, the 2012 fungal meningitis outbreak and the passage of the Affordable Care Act.
"I'd text my friend and say, 'I'm on C-SPAN! You can see part of my arm!'" Benjamin said.
In her investigative work, there was room to be creative and innovative, Benjamin said.
She found a similar capacity for creativity in her next roles, when she joined Lilly.
When she interviewed for a legal role at Lilly, she was moved to join the team when they said, "We want to hire you to push people to do the right thing and hold people accountable if they don't do the right thing," she said. "That's my jam."
She's been in her current role for about three and a half years. What she does on a daily basis, she said, is think about how to make Indianapolis and the world better.
Her team considers how Lilly can focus on human rights, environmental sustainability, global health, racial injustice and more. Lilly is one of the largest private philanthropic foundations in the world.
"I love knowing I wake up every day and think about how to make the world a better place," Benjamin said.
The lunch-and-learn also included a Q&A session with students, who asked questions about failure, emotional burnout, personal mantras and more.
"Every morning, I get up and write down what's really important to me," Benjamin said. This practice allows her to be intentional about her day and what she says yes and no to.
"Sometimes I do a lot of stuff to show I'm useful and valuable … but you're already useful and valuable," she reminded students.
Benjamin said she uses skills from her undergraduate career in her work today.
"IU made me aware that a billion things are possible," she said. "This place gave me the opportunity to talk to people. The people part is the most important."