Larsen wins IU Bee for 2nd year, looks ahead to Scripps National Spelling Bee
Daniel Larsen became a two-time champion of the Monroe County Spelling Bee on Saturday at the Monroe County Public Library, securing his victory by mastering the word "recidivism."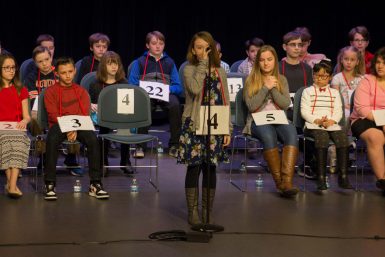 Larsen, an eighth grader at Jackson Creek Middle School, will compete in the Scripps National Spelling Bee in May. The regional bee, also known as the "IU Bee," is sponsored by The Media School and the School of Education, who also supply round-trip transportation to the national bee in Washington, D.C.
Larsen said his strategy for the national bee will be different this year, since he did not make it to the final due to his written test scores.
"Last year I did badly on the vocabulary section, so my plan is to spend much more time learning definitions," he said.
Larsen looks to be headed in the right direction, since he also earned the highest score on the vocabulary test taken prior to the bee. He said that felt "pretty good."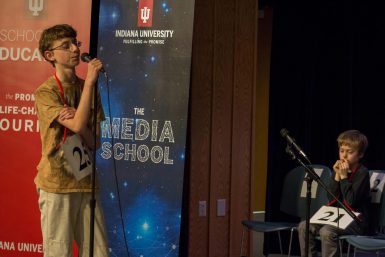 While the vocabulary test is optional and just provides practice at the regional level, it's a requirement that factors into the final results at the national level.
High School Journalism Institute director Teresa White and School of Education communication director Scott Witzke coordinated the bee.
Witzke spent much of the bee raising and lowering the microphone for the contestants, who ranged from third to eighth grade. The runner-up, James Rhoda, is a fourth grader at University Elementary School. He barely came up to Larsen's shoulder.
White said Rhoda provided Larsen with some good competition, since he was coming back as champion.
"Last year, it was really dramatic, because Daniel was facing off with the previous year's winner," she said. "He got to see what it's like to come back and be challenged."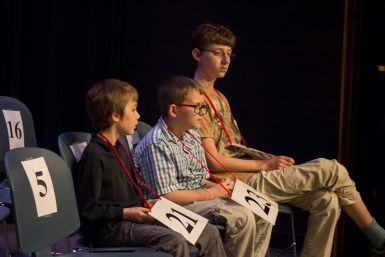 Larsen prevailed, even with multiple challenges from felled competitors over difficult words like "huckster" and "leotard." The procedure for challenging a misspelled word is multi-tiered, so veteran pronouncer Allan Murphy detailed the process before the bee.
"Is that clear as mud, audience?" Murphy asked. "It's a little different than when we were kids."
Students have to be detail-oriented to do well in the bee, a trait White said The Media School and School of Education like to celebrate.
"So much of what we do in The Media School, we use words and language in almost any medium," she said. "Spelling is important, attention to detail is important, so we want to recognize and support students who care about that as much as we do."
The IU sponsors pay for travel and lodging for Larsen and one parent or guardian to attend the national contest.
Larsen also receives a 2018 United States Mint Proof Set, a one-year online Britannica Premium subscription and a one-year subscription to Merriam-Webster unabridged online dictionary.
More: