Lanosga one of four AEJMC grant awardees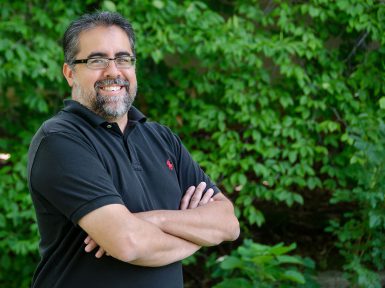 — By Craig Lyons, graduate student
Journalism assistant professor Gerry Lanosga has been selected as one of four recipients of an Emerging Scholars grant from the Association for Education in Journalism and Mass Communication.
Lanosga's "Emergence of Professional Prizes and Development of Journalism Professionalism in the United States," which was selected out of a pool of 40 applicants for the award, which will provide funding and support for his project.
"I'm thrilled a group of peers deemed my research project to be worthwhile," Lanosga said.
Launched in 2010, the Emerging Scholars program aims to find and foster the work of promising scholars by providing funding for research or teaching projects, according to the group's website, and partnering each recipient with a mentor.
Lanosga's research will look at the cultural history of the journalism in the United States and what role prizes have played in the development of the profession.
"There hasn't been a lot of research on the role of prizes, particularly," Lanosga said.
Journalism prizes have been a strong influence on forming the idea of what is good journalism, Lanosga said, and that culture is an important thread in the evolution of the profession.
Lanosga's research will involve looking at the archives of the Pulitzer Prizes and the duPont Awards in New York City, the Peabody Awards archives in Athens, Georgia, and, possibly, the Sigma Delta Chi Awards archives at DePauw University.
Aside from supporting Lanosga's research, IU Journalism chair Bonnie Brownlee said the award is significant for the program as it recognized two former Ph.D. students. In addition to Lanosga, PhD'10, Lindita Camaj, PhD'11, won one of the four awards.
"Gerry's receiving the Emerging Scholars grant is a great honor, an external recognition of his work and his academic potential," Brownlee said. "The fact that both Gerry and Lindita Camaj, our recent Ph.D. and now assistant professor at the University of Houston, make up two of the four recipients this year is even better news. We are very proud of both of them."