Kroft shares stories, reflects on journalism's future
By Rosemary Pennington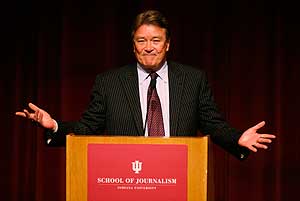 Veteran broadcaster and 60 Minutescorrespondent Steve Kroft has enjoyed a storied career that has led him to cover everything from conflict in Latin America to the fallout from Chernobyl to the drive of NBA superstar Lebron James. The Emmy winner has interviewed Barack Obama twice since the November elections.
But when presented with questions from the audience after his talk Tuesday night at the Buskirk-Chumley Theater, the Kokomo native knew he was back in Indiana. One of the first questions wasn't about Obama, but James.
"Basketball is one of the addictions I took with me when I left Indiana," said Kroft, who gave the second lecture of the School of Journalism's spring Speaker Series' talks.
Kroft had spent nearly an hour before the question-and-answer sessions talking about his career, most of it spent with CBS and 60 Minutes, recounting drama and some funny stories.
For example, he remembered his first day at CBS News in New York. When he first joined the network, as a reporter in its Northeast bureau, Kroft was given a tiny office with a sliver of a window covered in chicken wire. He went across the street to fill out paperwork and when he got back had a note to call the vice president of CBS News.
"I thought he wanted to welcome me to CBS," Kroft said. "Instead, he told me not to get too comfortable in that office because there were people who had seniority on the staff who wanted that office because it had a window."
It was a lesson in office politics for Kroft, who earned his way up the ladder by tackling tough and often dangerous stories. He covered hijackings in Europe, wars and conflicts. He was the first Western reporter to tour the Chernobyl site after the nuclear accident, has walked through tornado scenes and crime scenes. He's interviewed celebrities, average citizens and world leaders.
"I don't regret walking in that door," Kroft said. "It's been a great experience."
He's worked with a variety of other reporters on the show, including long-time mainstays Morley Safer, Mike Wallace and the late Ed Bradley. Apparently, one-up-manship keeps the reporters on their toes.
"60 Minutes was, and is, a competitive and combative place," Kroft said. "It's a place where grudges are held for a long time. I remember Ed Bradley, not long before he died, talking about how Mike Wallace had screwed him over on a couple of stories."
The show's reputation, and Kroft's diligence in covering the politician since his rise to national prominence, have allowed the reporter to have unparalleled access to President Barack Obama.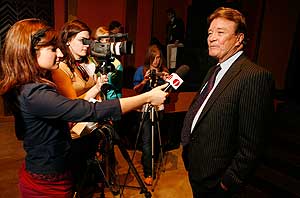 "He's a very cool customer," Kroft said when answering a question about what Obama is like off camera. "He's the kind of person, regardless of whether you agree with his politics or not, you can feel comfortable with. In a room full of smart people, he's going to be able to hold his own. He's listening to a lot of people; some in Washington say too many people."
Recently Kroft gained some attention in the blogosphere when he asked Obama, in a 60 Minutes interview, if he was "punch-drunk" after the president chuckled while answering a question about the economic bailout.
"You just had to be there," Kroft said. "We were talking about Detroit, about the bailout, and I said, '66 percent are against it, and he was laughing. I asked him if he was punch drunk and he said it was gallows humor."
60 Minutes' coverage of Obama and the financial crises, and perhaps pieces on people like LeBron James, have kept it steady in the ratings for the 40 years it has been on the air. Kroft, who has been with the show for 28 years, said ratings are up about 15 percent in the last year, perhaps because viewers want this kind of reporting, something that is beginning to disappear from other media outlets as newspapers' shrink and fold.
"The business model is changing," Kroft said of how media outlets make money. "It's up to journalists to make content and corporate to make money – they just haven't figured out how to make money in this new media world. There's always going to be a place for good content."
"Good content" is more than just entertaining stories. Kroft talked about the Washington Post's investigative coverage of injured soldiers' treatment at Walter Reed Army Medical Center in Washington, D.C., and 60 Minutes' later coverage of that story. Kroft said this is the kind of reporting that makes a difference, and it often finds its beginnings in newspaper reporting.
To the journalism students in the crowded theater, Kroft advised learning to shoot and edit video in order to make themselves more marketable. But his main piece of advice had to deal with something a bit more basic.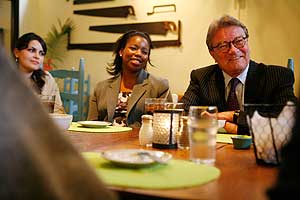 "Learn to write," he said. "You can be born with that ability, but it's also something that can be learned and, if that's all you get from what you learned here, you'll be fine."
Journalism master's student Tara Titcombe, who has attended all the School of Journalism's Speakers Series events, said it's good for students to hear professionals being honest about the state of the news media.
"I'm glad he's not painting a rosy picture," Titcombe said of Kroft's estimation that the news media is undergoing a monumental change. "It's better for me, who's about to enter the job market, to hear what it's really like than to have this naïve picture that I'll be able to get a job just like that."
"There is a ray of hope in all Kroft talked about, though," she added. "It seemed like he was saying there was a way out of this if you're willing to work hard."
Lindsay Eckert agreed.
"It felt like Kroft, and a lot of journalists of his generation, were saying that this generation of journalism is dying off," she said. "It feels like it's going to be up to us to move journalism along."