Kelly wins study abroad curriculum design award for Uganda reporting course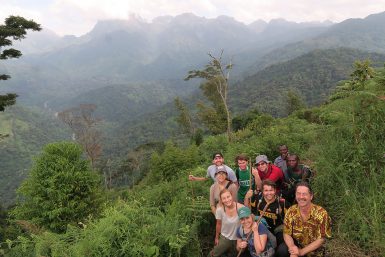 Associate professor James Kelly received national recognition for study abroad curriculum design for his course, Reporting HIV/AIDS in Africa, which takes students to Kampala, Uganda, for four weeks to report on health stories with reporters at the Daily Monitor newspaper.
During International Education Week (Nov. 13-17), the Forum on Education Abroad announced Kelly as the winner of the Award for Excellence in Education Abroad Curriculum Design.
In The Forum's announcement, selection committee chair Wendy Lombardo of Arcadia University called the course "an innovative model carefully aligning the topic with the location."
Kelly will receive the award on March 23 at The Forum's annual conference in Boston.
MSCH-X478: Reporting HIV/AIDS in Africa is a summer course that runs during the first eight weeks of the semester, with the 2018 trip to Uganda tentatively scheduled for May 20-June 17. Applications for the course are due Jan. 10.
Kelly serves as The Media School's director of undergraduate studies. His teaching areas include photojournalism, graphic communication and publication design, and the mass media's role in society.