Kelly book explores cross-cultural collaboration in health care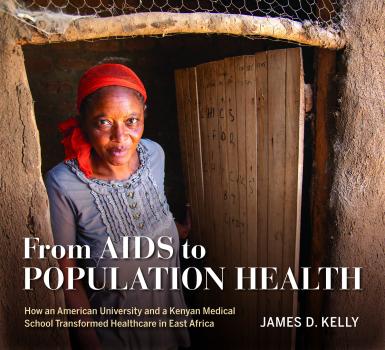 Jim Kelly, IU Media School associate professor and director of journalism, is publishing a new book in November about the strength of cross-cultural collaboration in health care. 
The book, "From AIDS to Population Health," is a combination of 100 color photos, 70,000 words and a scientific survey, Kelly said. 
"From AIDS to Population Health" showcases the work of AMPATH, an Academic Model Providing Access to Healthcare. Kelly said AMPATH is a 33-year-old collaboration between the IU School of Medicine and Moi University School of Medicine in Eldoret, Kenya. 
"I first learned about AMPATH when I came to IU in 2007," Kelly said. "I was amazed and impressed. I decided that its story was undertold, so I started taking IU students to Eldoret for a summer course where they would write, photograph and record stories about the various projects AMPATH was involved in." 
In 2019, Kelly received a Fulbright Scholars award from the U.S. government. He used the award to spend the first six months of 2019 living in Eldoret where he conducted the type of reporting he taught his students. This is when he started observing AMPATH employees and completed interviews for his book, he said. 
Kelly observed that the secret to AMPATH's success lies in the "worker bees," a group of about 1,600 employees who perform community-level work. 
"They've improved health care first, but also food production, group saving, small business development, maternal health care, breastfeeding and a whole host of projects that approach health care holistically," he said. 
In the book, Kelly wrote four stories about a group of worker bees. The stories follow an oncology nurse who created a series of traveling community clinics, a micro-finance officer who organizes villagers into group savings organizations, a farm extension agent working in partnership with a multinational agriculture corporation to improve farm output and a special health care clinic exclusively for adolescents, many of whom have been HIV-positive since birth.
Each of the stories is told in words and dozens of color photographs that visually describe the beauty of Kenyans and the devotion of AMPATH's workers to the mission of community health care.
Another section of the book features a series of 11 interviews Kelly conducted with AMPATH leadership. The AMPATH worker bees work in collaboration with these leaders, some of whom are American and most of whom are Kenyan, Kelly said. 
For each leader interviewed, Kelly shot an environmental portrait of them so readers can see where they work. "I think it's really important that you see these people and see what they look like," he said. 
Over his years of experience with AMPATH, Kelly has grown to view the Kenyans he knows as family. 
"These aren't just my work colleagues," he said. "These are my friends, my brothers and my sisters. It's absolutely fascinating and rewarding to have friends in other cultures, and I want people to see these great examples of that in the book." 
Kelly hopes readers will better understand the power of mutual collaboration after reading his book. 
"Americans know a lot about imperialism and forcefully taking from other people," he said. "Collaborative engagement results in a mutual exchange that benefits both sides and leads to enduring friendship. I think that's a really important lesson for readers to learn." 
"From AIDS to Population Health" is available for pre-order now through online booksellers like Amazon and IU Press. The book will be sold at Morgenstern's Books in Bloomington in November, where Kelly will host a book signing on Nov. 15. He is also scheduled for a book signing at Indy Reads in Indianapolis on Nov. 12.