K9IU keeps amateur radio tradition alive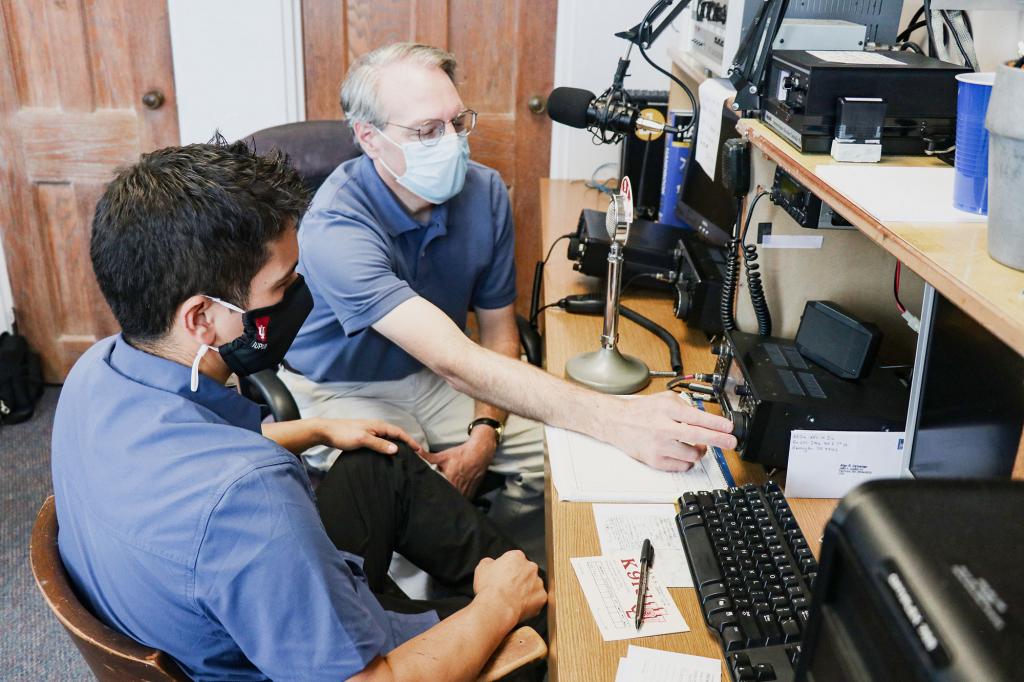 Rainbow-colored QSL postcards and black and white maps of broadcast zones adorn a room on the sixth floor of the Indiana Memorial Union's Student Activities Tower. In front of a wall of computers, radios and transreceivers, a vintage microphone with a red top reads "K9IU."
The room, although small, is filled with character, nostalgia — and lots of stuff. With all that stuff comes the many stories tied to amateur radio and how it has impacted the lives of those on campus who have participated for decades.
K9IU Amateur Radio Club is one of the oldest student-run clubs at IU, and it's part of a worldwide community for those interested in amateur radio.
The club introduces members to amateur radio and gives them an opportunity to apply for a license to broadcast by themselves. Members communicate with other amateur radio enthusiasts locally and around the globe. Students have talked to people as far away as Canada, Asia and Europe.
The club also participates in collegiate amateur radio competitions — in 2019, K9IU Amateur Radio Club took first place at the North American Collegiate Championship.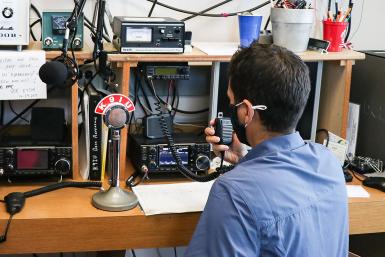 Joseph Fitter, a professor in the Kelley School of Business and a faculty advisor for the club, said the goal of K9IU is to publicize the hobby and to try to get more young people involved. Club president Ben Otto, a senior in Kelley, said he is grateful for the amount of knowledge the faculty provides to students.
"I still am able to learn about the hobby because there's a lot out there, and it's great to have so many professors and students who know so much about it," Otto said.
Amateur radio, better known as ham radio to hobbyists, allows people to communicate with one another around the world on numerous types of radio channels. The practice started in 1912, according to the National Association of Amateur Radio, and has since been passed down through decades of mentorship.
"I received my first license to do amateur radio in 1976, and I've renewed it ever since then," said Matt Pierce, a Media School senior lecturer and faculty advisor for the club. "I think this is the greatest hobby ever."
On the radio waves, users will typically hear communication with other people ranging from Morse code to general conversations. Knowledge of the weather and radio frequencies helps broadcasters put out better signals and have clearer communication.
"It's a hobby that requires a good amount of physical attention, because you have to be aware of different things while you're doing it," Otto said.
Amateur radio also serves an important purpose for emergency correspondence when cellular and internet signals are unavailable to facilitate communication.
Club secretary Jayson Deese, a doctoral candidate in the School of Education, said his most prevalent memory of people using emergency correspondence through amateur radio was during hurricanes Irma and Maria in 2017. Amateur radio broadcasters were using the system when there was no cellular or internet service to communicate with people in Puerto Rico.
"The situation really stuck out to me because I don't think people realize sometimes what they would do if they didn't have a cell phone or internet to communicate with someone," Deese said.
The club provides not only an extension of emergency communication, but also a larger community for a niche group of hobbyists. Otto said K9IU allows him to continue a hobby he first learned from his dad and meet more people who are interested in the topic.
Pierce and Fitter said they work with the club to mentor young broadcasters and ensure the longevity of the hobby. Both Pierce and Fitter were members of K9IU Amateur Radio Club when they were undergraduate students at IU. Pierce was the club president.
"My favorite thing about the club for me are the long memories I have with it." Fitter said. "The students, the enthusiasm — we are constantly doing stuff and not just talking about it."