Junior Journalism Camp gives Girl Scouts an inside look at photography, reporting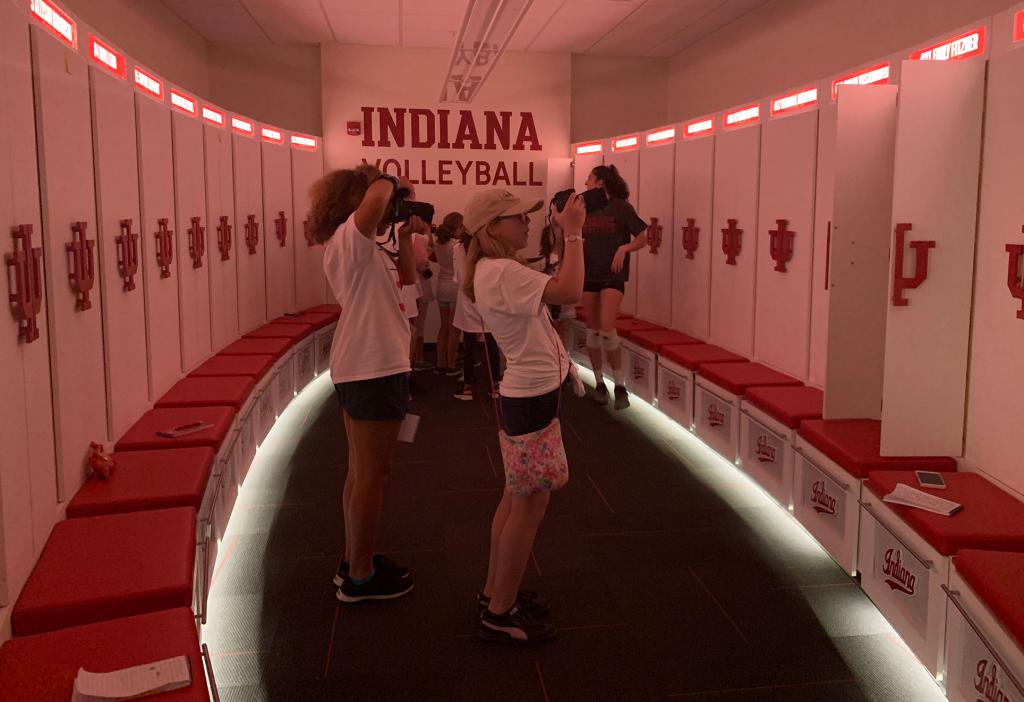 For four days this week, 14 Girl Scouts in grades four through six explored the IU Bloomington campus to report, write and photograph as part of The Media School's first-ever Junior Journalism Camp.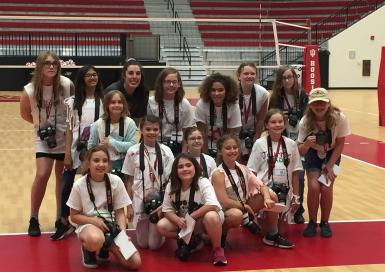 The campers earned their Scribe and Photo badges and used college-level equipment and facilities. They learned the complete process of producing news stories, from interviewing, writing and editing the article to capturing, editing and uploading photos.
Assistant professor Danielle Kilgo taught workshops on writing and photography, and accompanied students to an interview with IU volleyball player Kamryn Malloy.
Kilgo said all 14 students produced work they should be proud of, despite being unfamiliar with the more technical sides of media production.
"They are an excellent group of girls, and they are all very dedicated and very talented," Kilgo said. "I think some of their work would impress my college students."
Camper Kennedy Ulmer said she learned a lot about how journalists compose their articles.
"We got to learn to edit stories and make sure that you had the summary sentence first, and if there were unimportant details that you would just leave them out," she said. "Always, you would want to start your news story with something interesting, so that people would keep reading."
Camper Audrey Guay learned about the technical skills that go into photography.
"We learned to take photos on a Canon, one of those really nice cameras," she said. "I didn't know how difficult it was to use the camera and take pictures with it."
Teresa White, senior lecturer and director of the High School Journalism Institute, helped organize the camp. She emphasized the importance of partnering with organizations like the Girl Scouts and working with young girls.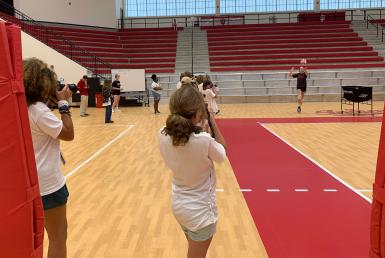 "We see this as an opportunity to let students see the campus, to get them interested in journalism and media early," she said. "They got to use the equipment that our students use, and they got to have a precollege experience, and I think that's really exciting."
As part of the overnight camp, students stayed in Spruce Hall and toured campus facilities, including Franklin Hall's Beckley Studio.
Counselor Kennedy King said the camp helped the students think about their future careers.
"A lot of them are now talking about coming to IU, being photographers or journalists," she said.
Camper Fiore Euneman said her time at The Media School this week reinforced her decision to become a journalist.
"I love the IU campus – it's beautiful – and I love this building," she said. "I'm in middle school now, and so I can't come back next year, but if there is a camp like this again, sign me up, please."
Counselor Devon Long said she believes the campers will take what they learned home with them.
"I know a lot of them are already talking about going home and asking for cameras and expanding on what they've already learned," she said. "So, I think for a lot them, they're going to look, if not for a professional aspect of it, then for a creative hobby from it."
Junior journalists
Lucy Anderson
Ella Andrus
Angelica Armstrong
Fiore Euneman
Audrey Guay
Eleanor Hayes
Juliana Koger
Sophia Mallov
Mia Olivetti
Jianna Patel
Elliott Smith
Evyn Taylor
Kennedy Ulmer
Norah White