Johnston, Lanosga close investigative reporting circle as Media School faculty
Uncovering the secrets behind the city of Indianapolis was what Gerry Lanosga and Kathleen Johnston were known for.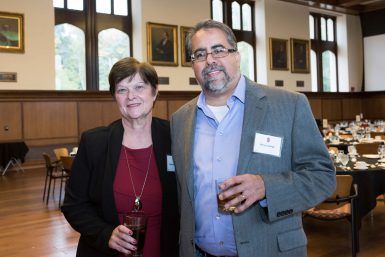 Their shared commitment to seeking and reporting the truth led to the exposure of the mismanagement of the estate of one of the city's biggest philanthropists and the broadcast of hidden camera footage of a local sheriff drinking and driving during his workday. Johnston and Lanosga operated as an investigative reporting duo for nearly 15 years at two news outlets before parting ways professionally.
Fourteen years later, the pair is back together.
To close their long investigative reporting journey, Lanosga and Johnston are reuniting their shared passion for journalism as they begin working together on the upcoming launch of the Michael I. Arnolt Center for Investigative Journalism in fall 2019. Johnston was hired as a Media School visiting professor of practice this year, joining Lanosga, an associate professor who has taught at The Media School since 2012.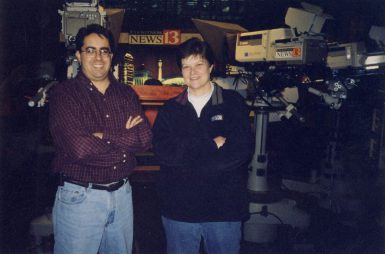 The two IU alumni first met working at the Indianapolis News. Johnston was the city hall reporter when Lanosga was hired as neighborhood reporter. Lanosga was reassigned to cover the City-County Council beat with her in 1990.
Johnston and Lansoga enjoyed their jobs, but they didn't want to cover City-County Council meetings forever. So they sought opportunity in their passion for investigative journalism and made a legacy at the Indianapolis News. They exposed the privatization of Indianapolis Colts finances, reported on a big brawl at a baseball game involving a deputy police chief and covered the mayor's run for governor.
"We just ended up with double bylines in our stories," Johnston said. "We would take turns: Johnston Lanosga, Lanosga Johnston."
Both journalists-turned-professors say their relationship was organic and they were always on the same page. If there was a story their beat could justify, they'd be covering it.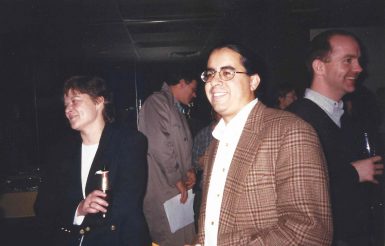 "It was one of those great newspaper partnerships that you hear about with bigger names. In Indianapolis it was just the two of us," Johnston said. "People knew to come to us."
The reporters had fun uncovering these stories at the Indianapolis News. But in 1997, the news director of Indianapolis NBC-affiliate WTHR Channel 13 made them an offer. Johnston said leaving the Indianapolis News was like "breaking everybody's hearts."
But Johnston and Lanosga accepted the offer and made the switch to television.
"I wanted to report stories, and then after you've done it for a while, then you look for a change in outcome," Lanosga said. "An opportunity came along."
The transition from print to TV was rare at the time.
"We used to sit around the newsroom at five o'clock and poke fun of the TV broadcast," Lanosga said. "And then next thing you know, we were going to be TV people."
Neither Lanosga nor Johnston had any TV experience, but the station allowed them to work on long-term projects and was willing to take the risk.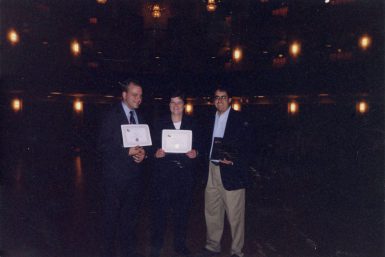 It paid off. The duo uncovered its biggest story while at WTHR: the questionable management of the fortune of Lilly pharmaceutical heiress Ruth Lilly. The three-part series, "Guarding the Guardians," told the story of how Lilly's court-ordered guardianship hadn't been followed adequately. Expenses incurred on behalf of Lilly, who because of age and illness was declared incapable of managing her own finances, included political contributions totaling hundreds of thousands of dollars and more than $1 million on trips for Lilly and large groups of people to accompany her.
A tip provided by a source sparked the six-month investigation, which resulted in a widely talked-about series that ultimately boosted the station's ratings.
"I could remember being at the grocery store and people were talking about it. It was gratifying," Johnston said. "That might have been a signal to people that we might have left City Hall, but that we weren't going to stop reporting."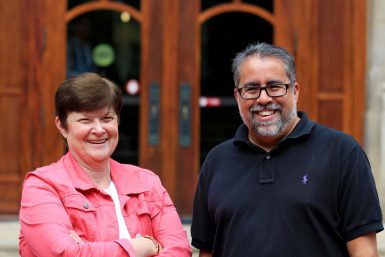 Their partnership ended in 2004 when Johnston left for CNN. Lanosga went back to school to get his doctorate in 2006.
"I always tell people that my line is, 'I carried Gerry throughout his professional career,'" Johnston said. "And his line is, 'I carried her longer than her mother.'"
Now, the investigative duo will carry forward its knowledge and experience into the development of an investigative journalism curriculum and the recently announced Arnolt Center, a news outlet that will publish and distribute student-produced multimedia investigative reporting. Both initiatives will train the next generation of muckrakers – including, perhaps, Indianapolis' next pair of watchdogs.
More: