Jacobs, Media School course teaches collaborative process of film scoring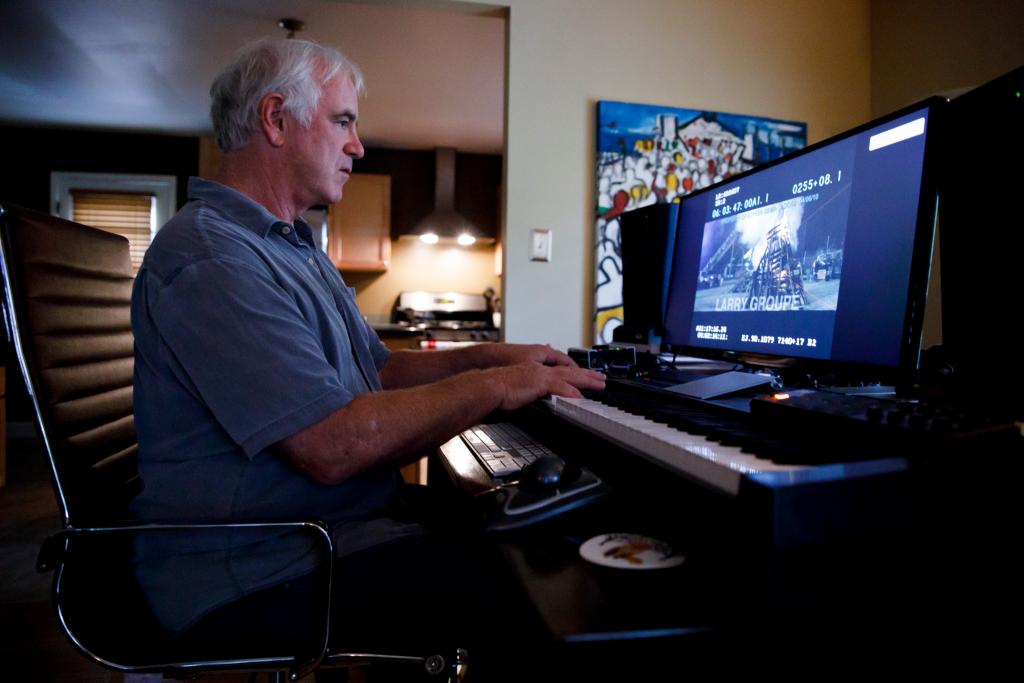 A foreboding score plays over peaceful images of a Mississippi marsh. Birdsongs echo in the emptiness, underscored by an intense droning that starts quietly and soon becomes overbearing. Under it all, a deep thumping, like a heartbeat.
The images, the opening sequences from the 2011 thriller "Straw Dogs," were rescored by Michael Bruner, a student in the Media School course Topics in Scoring Visual Media: Editing Music to Picture, taught by Jacobs School of Music associate professor Larry Groupé. Bruner, who started working with Groupé last fall through his short-form scoring class and now tackles larger projects in his long-form class, says the class rewired the way he thinks about writing music to picture.
"It's figuring out the destination before creating the path or the journey," he said. "You need to have a destination if you're going to buy a plane ticket."
For the opening scenes of the film, just one of several sequences Groupé had students compose music for, Bruner wanted to limit himself to a small selection of instruments: a broken frame drum, an ocarina and a harmonica.
Watching clips of the film, he recorded tones on each of the three instruments, which he later repitched to create a sonic palette that feels at once familiar and foreboding. He took special care to emphasize a heartbeat-like rhythm with the frame drum and to create what sounds like bird songs with the ocarina, so the score elements he added would cohere with the diegetic sound already in the film. He wanted them to blend together.
"Like part of the swamp," he said.
As with all of the feature films students in the course score, Groupé wrote the original motion picture soundtrack for "Straw Dogs." Working with films he scored allows him to show students workprints of the film without music added, providing them a blank canvas as they begin to think about what narrative and thematic beats to emphasize.
It gives students valuable insight on how each film's director approached the score. For Bruner, that was an important reminder that filmmaking, and film scoring, are collaborative processes.
"It's not just you and the footage," he said. "It's you and the whole team that it took to create the footage."
Groupé, a professor at Jacobs who fathered its film scoring program, teaches scoring through The Media School so filmmakers can get a more hands-on look at the dramatic power of music.
But his courses have attracted a wide range of students. Bruner is an individualized major working on a songwriting and production degree. And Dillon Slagle, another student in Groupé's long-form class, is a media advertising student with a film scoring minor. The class is a hybrid; it meets with the Jacobs School of Music's Introduction to Scoring course.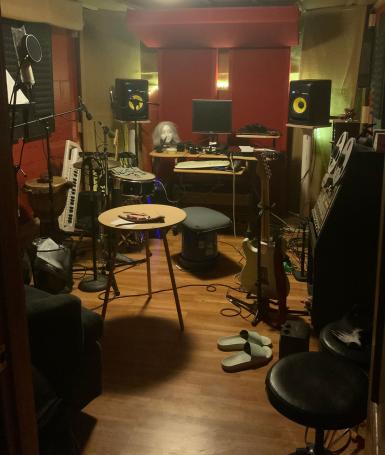 Every project begins with a screening of the film students will be scoring next. Together, the class tries to get behind the characters and plot and pinpoint the driving forces and emotions. Slagle tries to summarize it all by finding a phrase that cuts straight to the heart of the film.
"I try to find something that I can relate to," he said.
From there, it's just a matter of hitting his workstation and sketching out ideas on the piano.
For his projects, Slagle works with Digital Performer, a digital audio workstation used by much of the film industry. Groupé allows students to work in whatever programs they're comfortable with.
"When it comes down to it, it doesn't matter what you're using," he said. "It's more how well you know what you're using and can you do what you want with it."
For Slagle, the biggest challenge was learning to rethink the way he approached composition. He entered the class with the sensibilities of a songwriter, accustomed to writing in very specific ways and always partial to hip-hop, beat-based stylings. But suddenly there was an image to attach the music to and emotions to stir up.
"Trying to attach my own music and my own emotions to something that was foreign, almost, took a while to get used to," he said. "One thing that I've learned is how to let my music expand over time with the film."
Students flock to the class with all sorts of background experience; some are still learning the rudiments of Musical Instrument Digital Interface, while others are experienced in production and sound editing.
"But it doesn't matter. We all understand what the ideas are trying to be so we can talk about it," Groupé said.
This semester's shift to remote learning in the wake of the COVID-19 pandemic seems a small hurdle for Groupé to overcome. Student work has always been largely independent, and they'll now submit projects on Box and provide one another feedback.
Ultimately, the class is all about emotion: finding it, understanding it, compounding it.
"Emotion is bottom line in scoring, no matter what discipline you come from," Groupé said.
Bruner composed this score for pre-existing animated short-film called "Ocean Maker." The film takes place in a future depiction of earth where clouds are the last known source of water. Much of the film depicts aerial battles in a struggle to capture water within the scarce clouds. But one of the pilots has a different motivation.