IUAA trip follows life, work of Ernie Pyle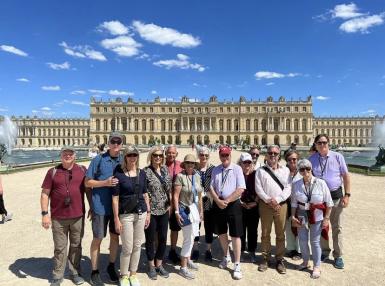 IU alumni Bill and Sherry Benner planned to go on their first IU Alumni Association trip two years ago when it was derailed by the pandemic.
After two postponements, they were finally able to see London, Normandy and Paris during IUAA's Footsteps of Ernie Pyle trip.
"We were eager to go two years ago, and then COVID happened and so we waited, and we waited, and we waited, and we were worried that it would never come about, but when it did, we were delighted," Bill Benner, BSEd'73, said.
Benner was one of 12 attendees on the 11-day excursion. The trip — which included travel to England and France — mirrored a version of the trip taught in a semester-long course format at The Media School, professor Mike Conway said. Conway, who has been involved with the undergraduate class following beloved IU alumnus and war correspondent Ernie Pyle, helped lead the trip as a journalism historian.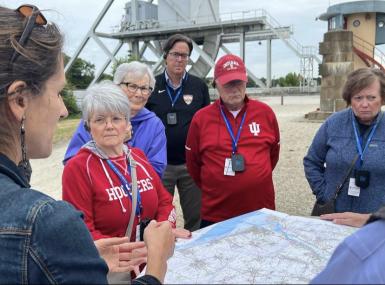 "For me, the goal would be to connect a place with the writing of Ernie Pyle," Conway said. "It's one thing to read his columns — because he's such an amazing writer — but the ability to stand in some of the places where he was, to see what he was writing about, it can be pretty powerful," he said.
Pyle, a Pulitzer Prize-winning journalist, was known for his columns chronicling typical American soldiers. The group saw scenes primarily from World War II, which Pyle covered, though some cultural and historical aspects of World War I were included.
Both Conway and Benner said the time spent in Normandy was their favorite.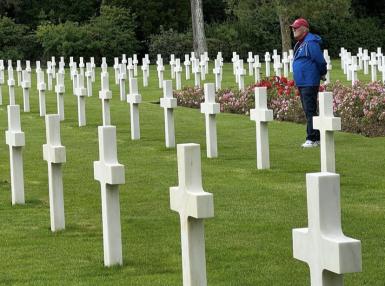 "Our visits to the D-Day beaches where the invasion happened were very powerful, very emotional, so I spent some time reading, letting them hear some of Ernie Pyle's columns when we were in the area," Conway said.
Some of the attendees were more familiar with Pyle's reach than others.
"For me in particular with a journalism background, many of the things that were discussed were quite relevant and special to me," Benner said. "Even for the other non-journalists in our group, I think having them experience that part of Ernie Pyle's profession was very enlightening in many ways."
Benner, who owned two of Pyle's books and bought a third while on the trip, has been connected to Pyle since his days as a student at IU, he said.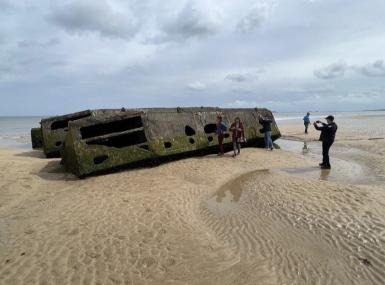 "During my IDS days back in Ernie Pyle Hall, I had sat at Ernie's desk," he said. "My wife and I have visited Dana, Indiana, which is his birthplace. We've seen Ernie's statue outside of Franklin Hall."
Benner's knowledge of Pyle as "the preeminent World War II correspondent," as he described the writer, only grew through the trip. Conway offered audio recordings and readings of some of Pyle's World War II columns for the trip members.
Seeing the sights that informed Pyle's writing was a moving experience, Benner said.
"The organization and attention to detail – the flawless manner in which the trip was executed – was really extraordinary," Benner said.