IU hosts Ukrainian faculty to begin development of government communications programs
A delegation of faculty members from the National University of Kyiv-Mohyla Academy in Ukraine recently completed a two-week visit to IU to workshop the design and implementation of academic programs in government communications in collaboration with The Media School, the O'Neill School of Public and Environmental Affairs and the College of Arts and Sciences' Office of International Affairs.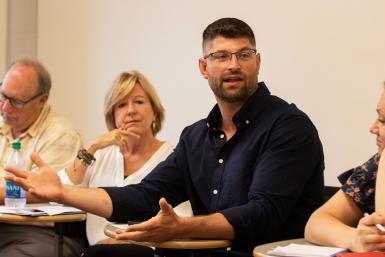 The 12 visitors' activities included attending panel discussions on political communication and the role of journalism in democracy, discussing public relations campaigns with Media School faculty and informal events such as a film screening, a soccer game and a Ukrainian Independence Day commemoration picnic.
The four-year project will result in the creation and implementation of 10 new courses and three academic programs: a Master of Public Administration track, an in-service certificate for working professionals and an undergraduate-level certificate.
The initiative is funded by a nearly $1 million grant from the U.S. Department of State, awarded last October. Media School professor Betsi Grabe is co-principal investigator of the project, along with Russell Valentino, associate dean for diversity and inclusion and international affairs in the College of Arts and Sciences.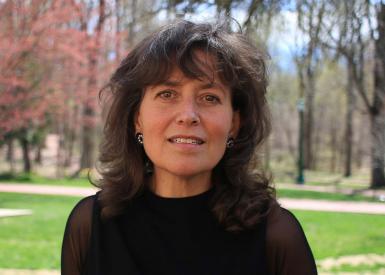 The delegation included:
Tetiana Andriichuk, NaUKMA lecturer
Lesya Ilchenko-Syuyva, NaUKMA Department of Public Governance associate professor
Oleksandra Humenna, NaUKMA Faculty of Economics dean and Department of Marketing and Business Administration associate professor
Oleksandr Kiliievych, NaUKMA Department of Public Governance associate professor
Andriy Meleshevych, NaUKMA president
Anastasiia Nurzhynska, NaUKMA Department of Communications assistant professor
Diana Protsenko, NaUKMA dean of students
Gennadii Riabtsev, NaUKMA Department of Public Governance professor
Viktoriia Romaniuk, NaUKMA Mohyla School of Journalism deputy director
Valeriy Tertychka, head of the NaUKMA Department of Public Governance and its Master of Public Administration program
Mariia Zaiets, communications manager for the Ukrainian Institute
Maria Zhdanova, NaUKMA Mohyla School of Journalism senior lecturer
Two of the visitors, Kiliievych and Humenna, will remain at IU in residence until December, working with faculty on course development and forming connections for future research. IU will host two more faculty members in residence during spring semester.
The MPA and in-service certificate programs are scheduled to launch September 2020, and the undergraduate certificate will be in place by 2021.