IU faculty, alumni, students release AR mystery game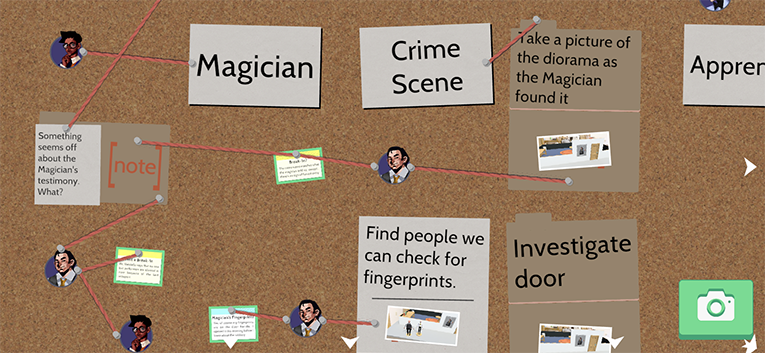 Investigate a puppy-turned-werewolf, the theft of a magician's supplies, a haunted mansion and a mysterious lost heir in "Diorama Detective," an interactive augmented reality app designed, built and marketed by IU students, faculty and alumni.
"Diorama Detective," launched in August, immerses players in four interwoven, 3D mystery cases on their mobile devices.
"The purpose of the game is about looking at these scenes and trying to figure out what happened," said Media School lecturer Will Emigh, MS'08, who conceived of the game in 2017.
Augmented reality superimposes digital elements onto the real world using the player's iPhone camera. Players interview witnesses, search for and photograph clues, and lay out evidence on an evidence board in order to solve the mysteries.
Emigh was inspired by the Nutshell Studies of Unexplained Death, a series of dollhouse-like dioramas created by forensic science pioneer Frances Glessner Lee in the 1940s.
"She created dioramas of actual crime scenes that were used to train detectives," Emigh said. "Some of them are on display at the Smithsonian right now."
Taking a similar diorama-style mystery case and putting it into an augmented reality setting seemed like a logical step for Emigh, who said AR controls are second-nature for many app users. The game is collaborative and invites players to discuss cases with others and move around.
All four cases are designed to be challenging but conquerable, Emigh said, with the hope that players come away "with that Sherlock Holmes feeling."
"Diorama Detective" was produced by Studio Cypher, a game development company that Emigh co-founded with former classmates Ian Pottmeyer, MS'08, and Nathan Mishler, MS'08, in 2005. Mishler is an adjust instructor at The Media School.
As Studio Cypher began reaching out to friends and colleagues for help building the app, Emigh realized that every person they were working with had an IU connection. Although it was unintentional, Emigh said it came together naturally.
"It just sort of ended up that they were all IU students or graduates, because that's who we knew," he said.
"Diorama Detective" is available for download on the App Store.
Team members
Will Emigh, MS'08, designer and programmer
Rajun Shankar, student programmer
Dakota Erickson, student designer
Ryan Reske, BA'19, BS'19, videographer
Morgan Anderson, BA'17, artist
Ian Sundstrom, BFA'12, artist
Mary Kenney, BAJ'09, writer
Dana Trebella, BAJ'08, public relations specialist
Ian Pottmeyer, MS'08, Studio Cypher
Nathan Mishler, MS'08, Studio Cypher