IU alumnus details success with "attention agency" Third Street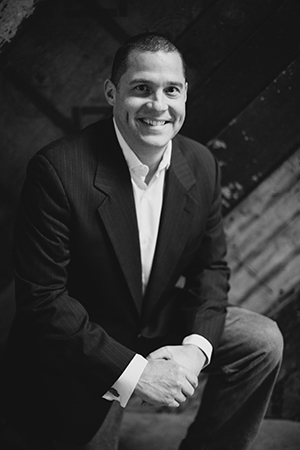 Sean Smith and David Jones became friends when they pledged together for Pi Kappa Alpha at IU back in the late 1980s. Students both actively involved with both fraternity and school, Smith majored in telecommunications and held positions within IU's Interfraternity Council while Jones, a Fine Arts major, was the creator of the IDS cartoon "Emerson."
After graduating, the two took off to different parts of the Midwest, with Smith getting his start as an on-air personality for a Cincinnati radio station and moving on to CBS Radio's WXRT in Chicago and Jones rising through the ranks at Foote, Cone & Belding in Chicago to become creative director. Smith said they both had promising and fulfilling careers, one they each considered a "dream job." But Smith said he believed there was more they could do, so they reached out to each other for collaboration on a new project.  
"Whether it was coincidence or destiny, we both reached a point professionally where we felt that to continue to fuel our passion, we needed to jump out on our own," Smith said. "It wasn't something we'd talked about in depth, nor did we know what exactly that 'next thing' would be. We just knew it was time."
Almost 20 years following that first meeting at Pi Kappa Alpha, they came together to form Third Street, a self-described "attention agency," a phrase which Smith said comes from the definition of advertising – "to draw attention to something" – and also describes the tactics which the agency uses with its clients.
As opposed to pitching an idea first and having the company work around that idea, Smith said Third Street takes the effort to first listen to what the company wants to say about their product and then creatively finding a way to draw attention to that product.
"The key is backing those words up with action," Smith said. "And if we're doing it right, our clients would tell you that from both a creative and business perspective, Third Street has earned the moniker 'attention agency.'"
Some notable companies that have worked with Third Street include Owens Corning, MillerCoors, Valspar Paint, and KFC.
Third Street has offices in both Indianapolis and Chicago, but they have staff and clients stretched out across the country and world. Smith said, while the physical offices are beneficial for face-to-face meetings, he and his staff typically hold or attend remote meetings.
"Candidly, we like to be where the action is, and typically that isn't around the water cooler," Smith said.
Working for Third Street fuels a certain kind of passion for its workers, Smith said. He summarizes this passion as creating an end result better than its initial form. He believes this work, regardless how successful or popular it may become, will help to create "a bit of history."
"There isn't a day that goes by that we aren't relying on what we've learned along the way to do things that have never been done before," Smith said. "Admittedly, it's not quite finding a cure to cancer, and you have to be willing to get dirt under your fingernails. But when you're a part of something that's breaking new ground, it's a tough feeling to beat."
Before a student attempts to start their own business post-graduation, Smith said he advises that they first try to examine and understand their own passions through another organization or person, just like he and Jones did before forming Third Street. Smith said understanding one's passion will ultimately help them funnel it into their aspiring business.
"Nobody expects you to have all the answers coming out of school," Smith said. "In fact, you'll get further faster by listening more than you talk. Then, when you feel like it's time and if your passion takes you there, jump – and the net will appear."