IU alum named Hearst Television chief operating officer, deputy group head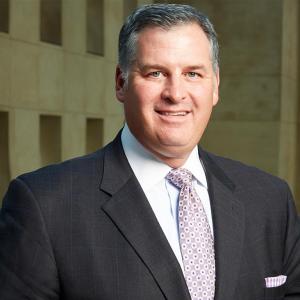 When Michael J. Hayes, BA'88, first moved to Bloomington, his freshman dorm housed more people than his entire home town.
IU offered him an environment different from everything he'd previously been exposed to. 
"IU helped me learn to think bigger," Hayes said. "It required me to grow and change at a pace that I was uncomfortable with, and in turn it helped me to be comfortable being uncomfortable today."
Hayes is still growing professionally. He was recently named chief operating officer and deputy group head of Hearst Television.
In his position, he helps lead the national multimedia organization that serves one of every five households in the country. 
Hayes has worked both in on-air and sales capacities throughout his career. 
"My understanding of news and product, coupled with an ability to learn and do well in the business end, gives me a well-balanced perspective at running an enterprise," Hayes said. "So I come to the job with what very few people in the industry do, which is experience on both sides."
He's worked in nine different places in his career, but he's often giving back to IU. A member of the Dean's Advisory Board at The Media School, Hayes credits IU for its role shaping him into who he is today.
"My IU experience in many ways was the most important thing that ever happened to me," he said. "It trained me for my chosen craft in television. It required me to have a broad base set of skills in varying fields of knowledge, and within that, provided me the tools and abilities to cultivate relationships — both personal and professional — that are among the most important things in my life today."
Learning to build teams was a valuable skill, Hayes said. 
"I'm a team guy at my core," he said. "It's fascinating to me to watch how sets of people function and their ability to achieve or not achieve goals, so for me to be able to be part of some really good teams at some really good stations that serve communities well is something that I take great pride in."
His stations have been honored with a Peabody Award, a National Association of Broadcasters Service to America Award and a national Edward R. Murrow Award, among multiple other honors for news and public service.
Hayes said his commitment to team-building started at a young age. His father, a guidance counselor and football coach, informed his understanding of the importance of collaboration, he said.
"My Indiana experience was unique in that I got to observe some really good teams," Hayes said. 
As a staffer at the Indiana Daily Student during his time at IU, Hayes covered soccer, swimming and diving and basketball. 
"I got to see how each of [the coaches] molded their teams, and those are lessons I had the chance to observe at a very young age that I take with me today as I work with our stations across the country," Hayes said.
He is looking forward to witnessing the evolution of television in his new position.
"No matter how it continues to evolve, there will still be a need for local news and information, and our brands across the country that help provide that service — they're some of the best in the country," Hayes said. "It's an honor to be a part of the team that is putting that together."